Last week I revealed the living room and this week I'm sharing the new kitchen remodel! I purchased a builder home so I was only able to do select upgrades to the house – the flooring tile, cabinet color, and countertop.
SEE ALSO: Interior Define Jasper Sectional Review
I've always dreamed of an all-white kitchen with white appliances that I've seen on Pinterest. It was super important to me to create a kitchen that would photograph well.
---
Table of Contents
Here's the before – white cabinets, white countertops, stainless steel sink, and basic backsplash (that would be removed).
Hinkley Somerset 11 1/2″W Heritage Brass Mini Pendant Light
And here's the after! With white appliances, gold pulls, and backsplash.
---
Café™ Smart Counter-Depth French-Door Refrigerator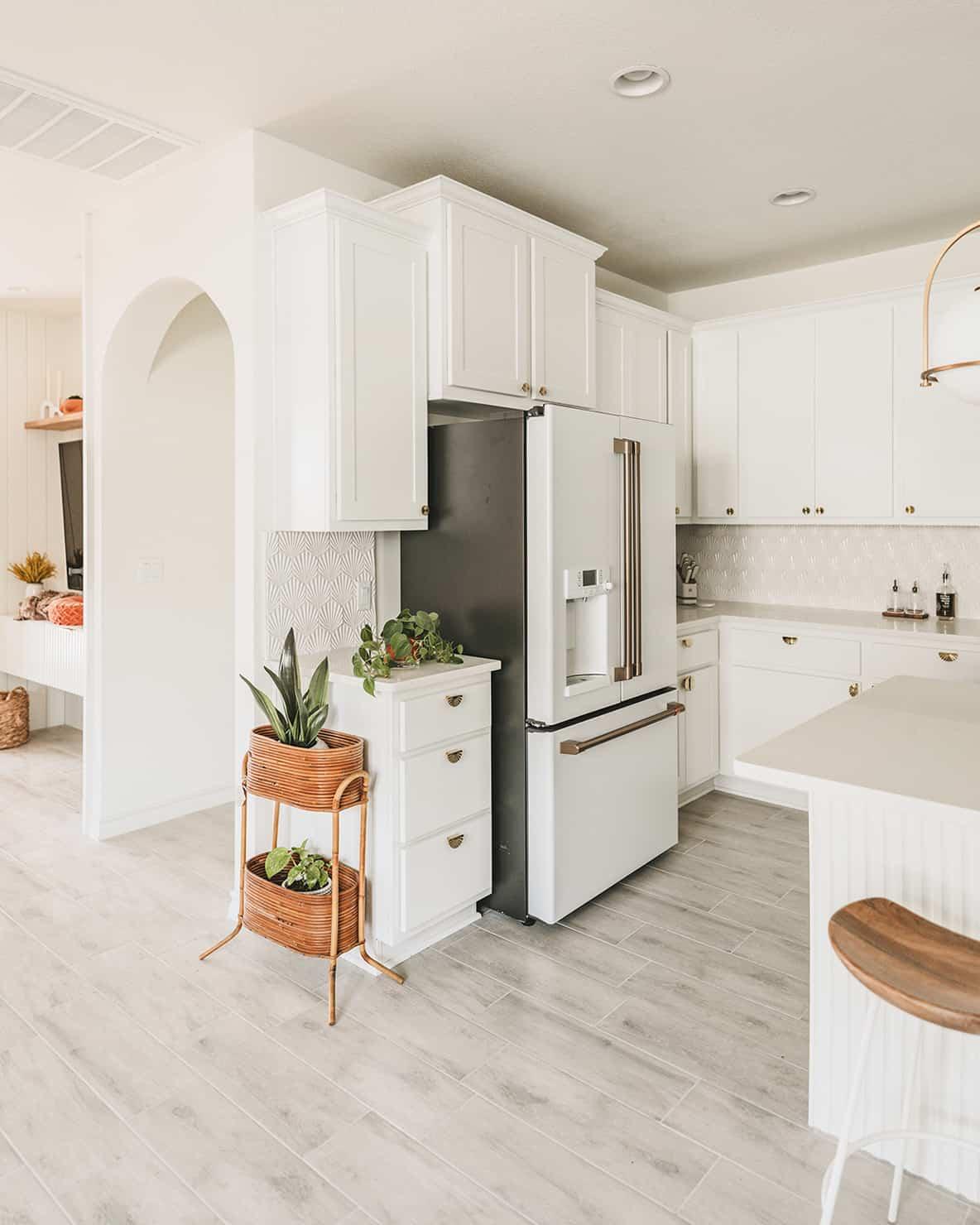 Café™ 30″ Smart Slide-In, Front-Control, Gas Double-Oven Range with Convection
Café™ Smart Stainless Steel Interior Dishwasher with Sanitize and Ultra Wash & Dual Convection Ultra Dry
Café™ Specialty Drip Coffee Maker
A couple of years ago Best Buy flew me to Kentucky to preview the new Café line of appliances and I fell in love. I knew I wanted to add these appliances to my future home. Introducing the Café appliance line by GE, customizable kitchen appliances with custom hardware, matte and sleek glass finishes.
The first thing I did was pick out Café appliances with all white bases with brushed bronze hardware, and then matched all the other pulls and fixtures to match the appliances.
I absolutely love all the Café appliances – not only are they beautiful but they are also a powerhouse. The refrigerator is super spacious and I love that it's able to connect with my phone. The range has 4 burners so we can have several pans going at the same time and there's also two ovens! We use the microwave multiple times a day and the coffee maker every single day.
---
For the backsplash, we selected Clay Imports Palmas tile in the color snow, glossy finish, and in size 4″. The Palmas tile is part of the Valladolid series that draws inspiration from the rich and luscious landscape of the Yucatan!
I love how the sharp lines add another level of texture to the kitchen while it matches the all-white kitchen.
---
This is what the island originally looked like – the house originally came with a stainless sink but I've always wanted a white farmhouse sink.
We switched out the stainless sink for the VIGO 36" Matte Stone Farmhouse Flat Apron Front Kitchen Sink and VIGO Livingston Magnetic Kitchen Faucet in matte brushed gold. You do have to replace the countertop when replacing a sink so we selected a similar white countertop.
---
Who knew lights could make such a difference in a space!? I love these Hinkley Somerset 11 1/2″W Heritage Brass Mini Pendant Light from Lamps Plus – the gold finishes match everything else in the kitchen.
---
We kept the original white cabinets that came with the house and added white gold pulls – I LOVE the sun design on the pulls that match the other elements in the house.
---
Kitchen designed by Bridget and Julia of Be Unica Interior Design in Austin Texas.