On Tuesday, an unusual (for Litchfield County, at least) house hit the market: a castle sitting at the end of a mile-long private driveway on 275 heavily forested acres that includes a FAA-certified helipad.
The Cornwall Castle, as the estate is called, was dreamed up during the 1920s by New York socialite Charlotte Bronson Hunnewell Martin, who had a bit of a thing for manifesting architectural fantasies. Before the castle project, she bought and renovated 19 Manhattan townhouses in what is now designated the Turtle Bay Historic District, connecting all their backyards to a leafy common garden and eventually drawing a host of famous residents like Katharine Hepburn and E.B. White.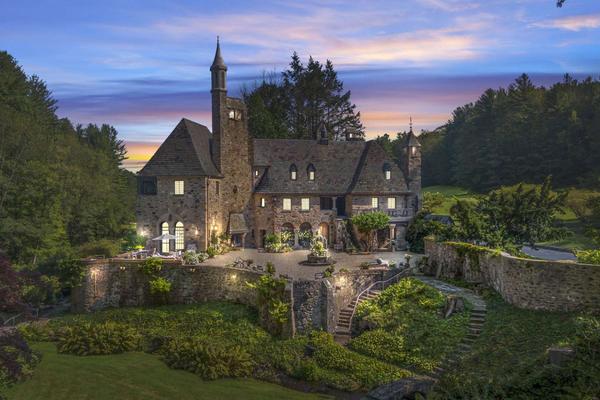 Meanwhile, the Cornwall kingdom, built with her surgeon husband, Dr. Walton Martin, comprises a roughly 8,800-square-foot main manor (which is completely made of stone, turreted, and adjoined to a massive terrace with a well, outdoor fireplace, and twin stairways leading down to the gardens), a four-bedroom gatehouse, a two-bedroom caretaker's apartment, and a pool house. Not to mention: brooks, ponds, five waterfalls, and rolling meadows, where Martin used to ride a big white horse while wearing a white tailored cape.
Photo: Courtesy of Klemm Real Estate
The current owners, a local couple with a penchant for restoring period homes, are putting the place up for sale after a two-year renovation that touched essentially every corner of the property, inside and out, from repointing all of the stonework to dredging the pond and redoing all the floors, plumbing, and heating. That explains the massive price jump from when they scooped it up for just $1.6 million in 2019, after the property had sat empty for years and was then foreclosed under the previous owner, the former hedge-fund manager Buddy Fletcher.
Listing agents Maria Taylor and Graham Klemm, who have both been visiting the place on and off for 30 years (sometimes while representing the property, other times as a guest of the owner), say the castle is now in its best shape yet. While the kitchen and bathrooms have been updated in a white-and-greige, neatly polished way that could place them in any renovated house down the block, you'll find some grander, more on-the-nose spaces, like the mahogany-paneled dining room and the living room with 20-foot high beamed ceilings and a huge limestone fireplace.
Per Taylor, there are also "little goodies at every turn," like a variety of gargoyles, a grotto garden at the lower terrace, and a "cutting sink" — ensconced in an arched nook, with a faucet coming out of floral wall tiles — right as you walk in from the patio doors.