As any candle owner knows, one of the biggest inconveniences is when it starts to tunnel. The varying levels of wax that start to build up around the wick(s) not only throw off the candle's aesthetic (unless you prefer a messy look), but it prevents you from getting the best use out of your candle—and who wants that?
If you're struggling to keep your candles from tunneling or have a tunneled candle in desperate need of a quick fix, there are plenty of easy tips you can follow to ensure it never happens again. The best part? You don't need many materials to get the job done. In fact, to fix a tunneled candle, all you need is one extra thing that's likely already in your kitchen: aluminum foil.
Content Pixie on Unsplash
Here's how to carry out thisSir Candle Man-approved trick:
1. Trim your wick, and light the candle.
2. Wrap the foil around the top of the candle.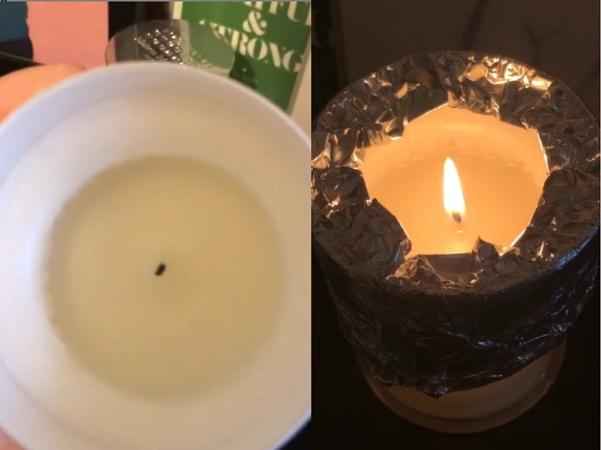 3. Leave an opening at the top so that the fire doesn't extinguish.
4. Let the candle burn for an hour or so until all of the built-up wax on the edge of the vessel melts.
5. Remove the foil, and enjoy your perfectly level candle!
Another method? Buy a candle topper. After you light a candle, all you have to do is place it on top of the vessel as it burns. It will protect the flame from any wind or drafts, helping the candle burn evenly. Many of the options out there feature intricate metallic detailing, which can take your overall candle display to the next level.
To avoid tunneling, let your candle burn all the way down—especially when lighting it for the first time. This takes some consideration when you decide to actually light a candle. Make sure you'll be able to keep it lit for a few hours. If not, you might want to light it another time when you can let it burn completely (or, you know, you can cancel your plans for the sake of your candle!).
Another helpful tunnel-preventing care tip is to trim your wicks regularly. This will control the soot and prolong the life of the candle. Oh, and make sure to keep your candles away from drafty windows and vents that'll mess with the flow of the flame. Once you get the hang of these, your candles will constantly remain in tip-top shape!
Shop Candle Care Necessities:
Aluminum FoilReynoldsamazon.com$21.99SHOP NOWUSB Candle LighterAnthropologieanthropologie.com$45.00SHOP NOWCandle Wick TrimmerLDAOSamazon.com$8.68SHOP NOWCandle TopperHionamazon.com$8.99SHOP NOW6-Pack of LightersBICamazon.com$16.99SHOP NOWMatch ClocheSkeemanthropologie.com$30.00SHOP NOWCandle DipperBlissfulhomecandyetsy.com$12.00SHOP NOWCandle Snufferwestelm.com$18.00SHOP NOW
---
Love shopping for your home and scoring the best deals? We can help.
---
Follow House Beautiful on Instagram.