Photo: istockphoto.com
Bathroom showers, tubs, and countertops collect soap scum. Toilets gather grime and bacteria. Tiled surfaces can fall prey to mildew and mold. Mirrors collect toothpaste, makeup, and streaks. The list of possible messes could go on and on, but fortunately, the best bathroom cleaner formulas work hard so you don't have to worry about the messes.
Keep reading to learn about the types and ingredients to look for in traditional, natural, and germ-killing cleaners, and check out some of the best effective cleaning products for each part of a bathroom.
Photo: istockphoto.com
What to Consider When Choosing the Best Bathroom Cleaner
Taking time to decide on the most important product features before selecting a bathroom cleaner can help. There are several important factors to consider, including whether the product is a multipurpose cleaner or a dedicated cleaner, the type of ingredients, and whether it's easier to use a spray, a foam, a wipe, or a scrubber to clean the bathroom. Keep reading for detailed information on these product factors.
Multipurpose cleaners can be applied to a wide range of bathroom surfaces from showers and tubs to mirrors because they're formulated for use on multiple materials. They are versatile and tend to be a budget-friendly option because you only need to buy one cleaner for the whole bathroom.
Dedicated cleaners are formulated for use only on specific surfaces, such as toilet bowls or showers; using them elsewhere could tarnish or corrode the surface or material to which they are applied. Dedicated cleaners are a good option for deep-cleaning a targeted area.
Bathroom cleaners get their cleaning power from different combinations of ingredients. There are three main compositions: traditional, natural, and germ-killing.
Bathroom cleaners are available in a variety of different forms, with each form having both benefits and drawbacks. Common bathroom cleaner forms include liquids, foam, wipes, and scrubbers.
Our Top Picks
This list of bathroom cleaners was selected based on the important product factors mentioned above, as well as the overall quality and product efficacy. These are some of the best cleaners to help clean and sanitize the different parts of a bathroom, and one of them may be exactly what you need.
1Photo: amazon.com Check Latest Price
Clean any area of the bathroom with this pair of bathroom cleaners from Clorox. Get rid of stubborn stains, mold, mildew, and soap scum with the 30-ounce spray bottle of disinfecting bathroom cleaner that also can kill common bathroom germs that cause salmonella, flu, and skin infections. The second bathroom cleaner is a 32-ounce spray bottle of all-purpose cleaner that includes bleach in the formula, so it can handle just about any stain.
The all-purpose cleaner is capable of killing up to 99.9 percent of bacteria and viruses, helping to keep the home clean and people safe from disease. Use either product on the floor, tub, shower, toilet, or sink, but make sure to properly ventilate the room and wear a mask to avoid inhaling harmful fumes.
2Photo: amazon.com Check Latest Price
This versatile multipurpose cleaner works great on tile and countertops, helping to eliminate common offenders like dirt, makeup, and soap scum. It's the best natural bathroom cleaner pick and has a formula that can be used on a wide range of materials, including porcelain, ceramic, natural stone, laminate, engineered stone, and more.
Just spray the nontoxic plant-based cleaner once per 2-by-2-foot area, then wipe with a microfiber cloth in fast, overlapping motions. A little goes a long way to quickly clean the toilet, sink, and shower to a shining finish. The bathroom cleaner has an all-natural formula that makes it safe for use in homes with kids and pets.
3Photo: amazon.com Check Latest Price
The powerful bathroom cleaning foam from Kaboom has no trouble cutting through grease, oil, dirt, and grime to leave the shower looking great. This foam cleaner has a citrus scent that freshens the bathroom while the user cleans, instead of filling the air with nose-wrinkling chemical fumes. However, the 19-ounce bathroom cleaner is still dangerous, so it's important that users take proper precautions for safe application.
This foam bathroom cleaner helps to determine when the foam should be wiped away with a built-in color-changing system. When the foam is sprayed onto a dirty surface, it comes out blue and gradually turns white as it eats through dirt and grime. Once the foam is completely white, wipe it away with a wet cloth or sponge and rinse. Just keep in mind that heavily soiled areas may require repeated applications or longer contact periods to remove contaminants.
4Photo: amazon.com Check Latest Price
The Clorox multipack of bathroom cleaners comes with six 22-ounce bottles of toilet bowl cleaning gel that's ideal for sanitizing, deodorizing, and cleaning the toilet. This cleaning gel contains 2.4 percent of sodium hypochlorite or bleach, which kills 99.9 percent of disease-causing bacteria, viruses, and fungus. However, due to the powerful chemicals, this product should only be used in a well-ventilated space, despite the clean, fresh scent.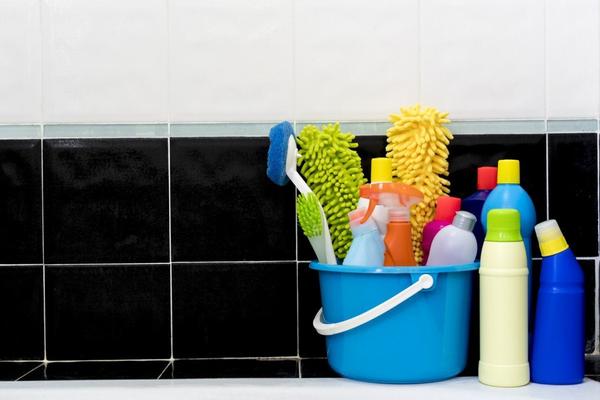 While common bathroom cleaners are typically sprays, foams, or wipes, this Clorox bathroom cleaner is a thick, viscous gel that sticks to the interior of the toilet, coating the bowl. After applying the gel, just clean the inside of the toilet with a scrub brush and let the toilet sit for about 10 minutes to ensure that all bacteria and viruses have been eliminated before rinsing.
5Photo: amazon.com Check Latest Price
Don't waste time dealing with cleaning sprays or foams that are difficult to wipe and rinse without leaving watermarks and streaks behind. The MiracleWipes bathroom cleaning wipes are designed for cleaning glass surfaces like bathroom mirrors and windows.
These wipes clean away watermarks, toothpaste, fingerprints, dirt, and grime without leaving streaks in the mirror. A microfiber cloth is included with the wipes to help ensure that the bathroom mirror, glass shower door, and bathroom window are completely dry and streak-free. Keep the container properly closed between uses to prevent the wipes from drying out.
6Photo: amazon.com Check Latest Price
The Sniffer can be used for both sweeping and mopping. This kit comes with the Swiffer mop, 14 dry replacement cleaning cloths, and five wet replacement cleaning cloths to help keep the bathroom floor clean and sanitized. The mop also comes with a dry cleaning cloth already fitted to the head, so users can begin sweeping the floor immediately.
This standing bathroom cleaner can be used on hardwood or tile and it has a flexible, pivoting head that can move around and between objects in the bathroom to help clean hard-to-reach locations. After cleaning, just throw away the dirty cleaning pads and replace them before using the mop again.
7Photo: amazon.com Check Latest Price
Quickly clean up the bathroom sink, toilet, tub, and shower with this 75-pack of Lysol bathroom cleaning wipes. Each wipe has been designed with a touch-up side that has a mild abrasive quality for dealing with water spots and other light messes. The other side of the wipe has a rough abrasive texture that's intended for scrubbing stuck-on toothpaste, limescale, and grime, making it easier to remove these stubborn substances.
The wipes don't just clean bathroom surfaces, they also sanitize by killing 99.9 percent of viruses and bacteria, including cold and flu viruses. After the wipes have been used, the bathroom will have a citrus scent that can be an improvement over the smells of a dirty bathroom.
8Photo: amazon.com Check Latest Price
This impressive bathroom cleaner is designed for reaching into surface grooves, cleaning grout, and removing tough, stuck-on stains and grime from the tub, shower, sink, toilet, floor, and walls. The two-pack of bathroom scrubbers is made out of a white Durafoam material that is filled with foaming cleansers to help loosen and remove toothpaste, fingerprints, grease, and soap scum.
However, this Mr. Clean product shouldn't be used to clean inside the toilet bowl because the toilet water can cause the bathroom scrubber to quickly lose its foaming cleansers. The bathroom cleaner activates with just a little water, releasing the cleansers while the user applies abrasive force to the surface with the Durafoam scrubber. This also has the added benefit of creating a pleasant, fresh scent.
9Photo: amazon.com Check Latest Price
This powerful mold and mildew stain remover spray and bathroom cleaner is a quick, efficient solution to stubborn stains and mold growth. It's easy for this spray to seep into the gaps between tiles, saturating the grout lines with bathroom cleaner and killing any mold or mildew on contact. Despite the superior cleaning power, this 32-ounce bottle of spray is safe for use on bathtubs, bathroom tiles, toilets, sinks, and other common areas around the home where mold and mildew tend to grow and spread.
After application, the spray will immediately begin to cut through grease, grime, mold, mildew, and soap scum, removing the contaminants and their odors without the need to scrub the surface. Just spray the bathroom cleaner on the target surface and watch the mold and grime loosen. Quickly wipe away the drips and streaks on vertical surfaces to avoid creating a mess on the floor or in the tub.
10Photo: amazon.com Check Latest Price
Where hard water is a particularly difficult problem, such as on showers, sinks, tubs, and toilets, the surfaces will often become stained and may even begin to show signs of heavy limescale buildup. However, the BioClean bathroom cleaner is specially designed to remove hard water stains and cut through limescale, ensuring that the bathroom can look great with just a little weekly maintenance.
This multipurpose bathroom cleaner that doubles as a surface sealant cleans rust, mildew, mold, and hard water stains. Being a biodegradable, odor-free formula of nonchemical surfactants and silica flour, this hard water stain remover is safe for use on sink basins, faucets, showers, tubs, tile (natural stone or porcelain), chrome, brass, steel, and glass.
FAQs About Bathroom Cleaners
It's important to have all the information you can get about cleaners that are being used in your home so you know how to clean messes while staying safe. Keep reading for the answers to some of the most commonly asked questions about bathroom cleaners.
The ingredients for each bathroom cleaning product are different depending on the brand and the purpose. Natural bathroom cleaners don't use chemical ingredients; instead, the makers opt for natural ingredients, like lemon. Some chemical cleaners use powerful disinfectants to kill up to 99 percent of bacteria and viruses.
Always check the product label to find out what ingredients are included in a specific product before using the bathroom cleaner at home.
To keep the bathroom clean, cleaning supplies usually include a toilet brush, toilet bowl cleaner, a bathroom cleaner, a scrub brush, a glass cleaner for the mirror or window, a sponge, a cloth, a broom with a dustpan, and some clean rags or paper towels.
If you're concerned about harsh chemical cleaners in the bathroom, consider Better Life Natural All-Purpose Cleaner. It's one of the best natural bathroom cleaners to scrub the grout, sponge the floor, and wipe the glass shower doors clean without filling the air with powerful chemicals.
Deep cleaning the bathroom is usually something that is done about once a month. Begin by clearing away any garbage or clutter in the bathroom, then use a brush to clean loose debris from inside the toilet and a broom to gather any dirt or hair from the ground.
When the floor and counters don't have loose dirt or hair on them any longer, use a bathroom cleaner, a cloth, and a scrub brush to clean and wipe down all surfaces, including the toilet, sink, bathtub, shower, floor, and walls. Finally, take advantage of the abrasive surface on a Magic Eraser to scrub the grout lines, then rinse away any lingering soap.
Final Thoughts
The bathroom is an integral room of the home that everyone uses on a daily basis, but this means that it's important that the toilet, sink, tub, shower, walls, and floors are regularly cleaned with an effective cleaner.
Ranging from simple bathroom cleaning sprays to abrasive scrubbing pads like a Magic Eraser, the best bathroom cleaner should help to scrub or wipe away dirt, grime, and other unpleasant substances.
Keep in mind that any chemical cleaners should always be used in a well-ventilated space with proper personal protective equipment, which can include a breathing mask, eye protection, and gloves.