No matter what sink in the house is clogged up, it's surely a pain. We've all been there. You are washing your dishes, just moments into scrubbing that pan, you notice the water just doesn't want to go down the drain. Great. So, what should you do now? Usually, the garbage disposal does the trick, however getting a clogged sink happens more often than you think. A clogged sink is among the most common drainage issues to plague homeowners, largely because food debris and soap residue are nightmares for smooth draining. We all know there are just plenty of stuff that can stick down the drain. We've created the ultimate guide on how to unclog a sink without having to call the plumber. Check out all of our useful tips and tricks that will guarantee to get rid of this inconvenience as soon as possible.
Ultimate guide: how to unclog a sink
---
Contents
4 How To Prevent Clogged Drains?
How To Unclog A Sink?
There are plenty of ways you can choose to tackle a clogged up drain. The easiest may be calling a plumber, but if you want to try to tackle this problem on your own we understand. Knowing basic methods of uncloggingis crucial to any homeowner. Whether the bathroom, kitchen, or shower drain is giving you trouble, you can use all of these methods on each one.
Knowing basic methods of uncloggingis crucial
Baking Soda And Vinegar Drain Cleaner
Let's start with one of the most used hacks. This unclogging method is one of the best out there. This approach is a natural alternative to using chemical drain cleaners. And the best part is baking soda and vinegar are common household items that you'lllikely already have in the kitchen.
Items:
Method:
This hack is one of the most popular
What Is The Fastest Way To Unclog a Sink?
If the baking soda and vinegar doesn't do the job, try out some of these helpful methods.
Ultimate guide: how to unclog a sink
---
While you may think this method sounds a bit too easy to be a real solution, you'll be surprised by its effectiveness. It's not only easy, but it's also the cheapest method. That's why it's best to try it first. Most clogs in sinks and drains occur due to a combination of grease, hair, soap residue, and tepid water trapped within it. If you have metal pipes, you can try to loosen the clog with boiling water. However, keep in mind just warm or hot water will not do the job. Do not use this method on PVC pipes, as the water may damage them. Here is what you should do.
Items:
Method:
This method is not only easy, but it's also the cheapest
If the boiling water trick doesn't work, it's time to check the garbage disposal. However, this means this method is mainly for kitchen sinks and in general sinks with garbage disposals. A clogged disposal can easily be the culprit of your drainage issue. Run the disposal for a minute or two with hot water running to see if that clears the clog. If it's at fault, this will usually break up the blockage.
Check the garbage disposal
If you turn on the disposal and hear a low humming sound, the unit could be jammed or broken. Overheated or dysfunctional disposals may not even turn on, but you can activate the reset switch at the side or bottom of the unit for an easy reboot. Before doing anything to fix your disposal, remember to disconnect the power to the unit and never stick your hand in the disposal.
If it doesn't work, you can try to break up the clog in the disposal by turning the blades manually. Inserting an Allen wrench into the hole on the bottom of the disposal, and twist until you feel less resistance. This means the blockage is beginning to break up. Once unclogged, turn the power back on and test the disposal. If all looks and sounds good, turn the faucet to see if the sink drainage is back to normal.
Keep in mind that your garbage disposal may not reveal any clogs or issues, which means you should skip to the next methods.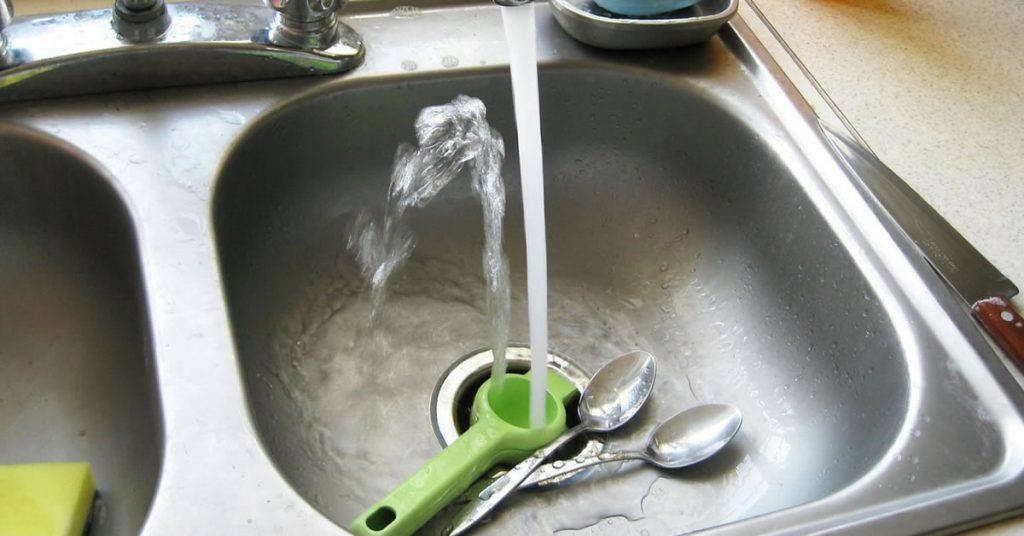 Overheated or dysfunctional disposals may not even turn on
Well, now that we've established the disposal isn't the problem, it's time to turn to the bathroom plunger. There are different types of plumbers, so for working in sinks, showers, and tubs, we recommend using a cup or flat-bottomed plunger. If you have a double sink, first seal off the drain on the other sink with a wet cloth or a stopper. Here are the steps you need to take.
Items:
Method:
Use the cup plunger
Other than the baking salt and vinegar method, you can also try this one. If you don't have any vinegar at hand, salt will do the job just as well. All components in this method create a pretty aggressive chemical reaction. This mixture can unblock some tougher than usual sink stoppages.
Items:
Method:
Baking soda and salt will do the trick
A plumbers snake or sometimes also called an auger is a handy tool that can clear up stubborn clogs stuck further down the drainage system. This should work if the clog is in the trap.
Items:
Method:
Ultimate guide: how to unclog a sink
For clogs beyond the trap, getting to them is a bit more work, however it's still fairly easy. If the water still isn't draining as it should, the blockage is probably in the P-trap. The P-trap is that elbow-shaped pipe you see under the sink. A lot of debris may get stuck here, causing your sink to drain slow, or not at all. This is because the water hits a snag on its way down. Keep in mind this method can get a little messy. Get yourself some gloves, goggles, and towels. Here is what you need to do.
Items:
Method:
This is called the P-trap because of it's shape
If the drainage situation is still not fixed, the clog may be farther up the pipe.You need to go back under the sink. Here's what to do when you get there:
Items:
Method:
Ultimate guide: how to unclog a sink
If you don't have a plumber's snake, you can use a wire coat hanger as a substitute. All you need to do is straightened it. Of course, it won't reach as far down as an auger would and may not reach some clogs. But it's still worth giving it a try when all else fails. Insert the straightened hanger wire into the drain and push through or pull out the clog if you can reach it. You can scratch your sink, so be careful.
Straighten a wire coat hanger
If nothing else works, it may be time to call in the help of a professional. Ask a friend to recommend a plumber, or search for one online. Some home issues need more help than others, so don't be afraid to search out someone who know the insides and outs of the plumbing systems.
Call a plumber if all else fails
How To Prevent Clogged Drains?
Now that we've managed to get the sink draining properly again, it's time to ensure we try to prevent clogs as much as possible. One of the best ways to help avoid this is by refraining from disposing of harmful items down the drain. That includes:
Avoid disposing harmful items down the drain
It's also best to not overload the garbage disposal. Try not to grind more than one cup of food waste at a time, and, of course, avoid sending any of the above items to the disposal.
Some other things you can do is to create an equal solution of vinegar and water, and then freeze the mixture in an ice cube tray. About once a month, grind a few of the cubes down your disposal to scrape away food-waste buildup and keep the unit fresh.
Another good habit for your pipes sake is running hot water down the drain after each sink use to keep everything clear. You might also want to use a drain cover to catch debris before they cause damage in the pipes.
Freeze vinegar and water in an ice cube tray
We hope you found our guide on how to unclog a sink helpful! With these tips and tricks you won't need to worry when the inconvenience occurs. You know everything you need to in order to handle it quickly and smoothly!
Ultimate guide: how to unclog a sink