Thomas Tuchel should step in and tell Roman Abramovich to walk away from Chelsea during what would be their third or fourth conversation ever.
Rapport cardFair play to Henry Winter of The Times for condemning those Chelsea fans who chanted Roman Abramovich's name and similar messages of apparent support for their owner against Norwich. He calls their behaviour 'crass in the extreme', 'tasteless' and proof of 'wilful arrogance' among the support.
In a further interview with talkSPORT on Friday morning, he added that "it was embarrassing to hear them singing his name".
But he adds: "It's that defiance and that rapport which is one of the reasons why Chelsea will survive, they won't go to the wall, because they have fans that passionately support them."
Not sure "defiance" and "rapport" can cover a £28m monthly wage bill for too long.
Blame academyIn his report from Carrow Road, Winter writes the following:
'The sight of two academy graduates scoring was simply further confirmation for Chelsea fans of Abramovich's legacy.'
And further confirmation that you were typing through Frank Lampard-induced tears when you doubted that Thomas Tuchel would give a shiny sh*t about the club's youth system.
Not sure Roman Abramovich will be 'known as the man who shot Bambi' anymore, by the way.
Kwik-E-MartThe big guns are out in force to discuss the Chelsea situation. Martin Samuel of the Daily Mail wades in with this request for Chelsea fans to retain some perspective:
'At worst, your team may end up as Queens Park Rangers for a few years, but it's all relative. Chelsea fans of a certain age will remember that anyway. It's a myth that Chelsea were a small club before Abramovich's arrival – they won the European Cup Winners' Cup and UEFA Super Cup in 1998 alone – but the years from 1975 to 1989 contained three relegations and three promotions. They've had it worse than it's going to get now.'
Now to the back page of the very same Daily Mail:
Friday's Mail sport: Finish the season #tomorrowspaperstoday pic.twitter.com/yru0Bl2z46
— Helena Wilkinson (@BBCHelena) March 10, 2022
And to the top headline on the MailOnline football home page:
'Chelsea could go BUST as club chiefs put forward changes to allow them to operate after owner Roman Abramovich is sanctioned… with Nike possibly being the next to axe £900m deal!'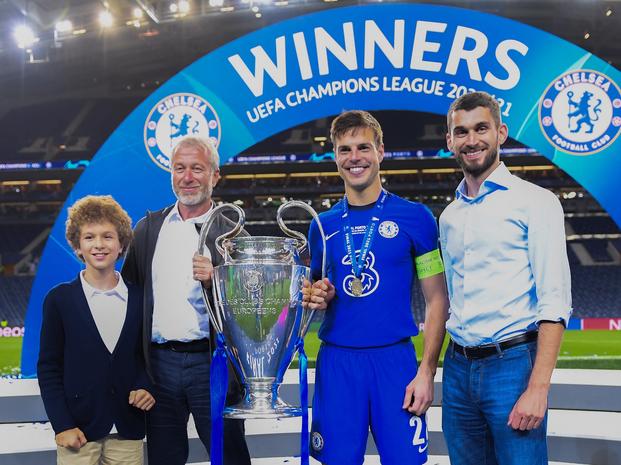 It sounds like things could get a bit worse than a handful of relegations over a decade and a half, or 'ending up as Queens Park Rangers for a few years'.
Warning signsAnd then there's Martin Lipton in The Sun:
'The government insisted it was not targeting the Chelsea fans, merely the club's owner.'
You don't say.
He then writes that Chelsea's statement on the matter amounted to 'a warning'. Namely that 'if this club goes under, it will be on your head, PM.'
Far be it for Mediawatch to defend Boris Johnson over literally anything, but not sure he can really be held accountable if Chelsea go under. It might be the Russian oligarch's fault, or perhaps the Premier League and football authorities for not foreseeing the potential issues raised by such ownership.
Broken newsFellow Sun writer Charlie Wyett was on hand at Carrow Road and seemed to be left stunned at Thomas Tuchel's team selection:
'So the futures of Azpilicueta, Andreas Christensen and Toni Rudiger now look away from Stamford Bridge with all their deals ending this summer.
'Yet both Azpilicueta and Christensen, who could both be off to Barcelona, were still in the starting line-up, while Rudiger was a substitute.'
This just in: Chelsea continue to pick their best players.
The common TuchAndy Dunn of the Daily Mirror has a message for the German manager:
'Tuchel himself said the club was still the "perfect fit" for him and that he "loves everything about the club". Presumably, that includes the fans, so the decent thing to do now would be to hang on for their sake and persuade the oligarch who employed him to do what he says he has always done. Take a decision with the club's best interests at heart. Give it away.'
That would be the same Tuchel who hardly has an open dialogue with Abramovich, previously claiming to have had fleeting conversations with him a couple of times at most. He should definitely take it upon himself to 'persuade' the owner to walk away.
V for vendettaA by-product of such a dominant story is that it seeps into the press conference consciousness of every other teams, not just Chelsea. Which leads to Patrick Vieira being asked what this all means for Conor Gallagher's future and the Daily Mirror publishing his answer:
'Patrick Vieira does not know how sanctions imposed on Chelsea owner Roman Abramovich will affect the future of Conor Gallagher.'
No-one at Chelsea knows what is going to happen beyond the end of May at the absolute best. How surprising that the Crystal Palace manager has no clue either.
Contract killerPAUL POGBA is on the verge of agreeing a new five-year Manchester United deal. SunSport understands the Red Devils are confident of announcing the deal at the end of the season' – Neil Custis, The Sun exclusive, July 17, 2020.
Manchester United are 'confident of tying Paul Pogba down to a long-term deal… and he has now given them hope that a deal can be struck by claiming there are just details to be sorted out between his agent and club chiefs' – Charlie Wyett, The Sun exclusive, August 17, 2021.
'France midfielder Paul Pogba is also certain to leave in the summer on a free transfer' – Neil Custis, The Sun, March 11.