Yesterday, the Japanese brand released a pair of teaser photos that show little more than a Wilderness brand badge beneath a side mirror. But it's a pretty distinctive side mirror. We're comfortable predicting that the next model to get the off-road treatment will be the 2022 Subaru Forester Wilderness.
Accompanying text reads, "there's another Wilderness model coming, extensively upgraded and retuned for rugged adventure."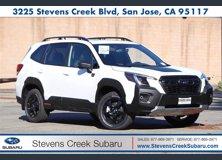 Earlier this year, Subaru launched the first model to carry its new badge. The 2022 Outback Wilderness rides higher than the Outback wagon it is based on and features reshaped front and rear bumpers to give it better angles for crawling over uneven surfaces. Its interior is lined in tough, waterproof materials. Its exterior features scratch-resistant plastic body cladding and a matte stripe down the center of the hood to reduce glare.
It's also a decent bargain. Observers had expected the tougher off-road version to be the most expensive Outback, but it came in with a price in the middle of the Outback lineup, at $38,120.
Now, a second Wilderness model is on the way. All we have to work with are two photos. One shows a wilderness badge below a side mirror.But that badge sits in a concave body line that matches one found on the 2021 Subaru Forester.
The other shows a similar angle on a vehicle following what appears to be another Forester. It could be a Forester Wilderness model – it's painted in the same medium blue shade used to advertise the Outback Wilderness and may have similar copper accents. Accumulated mud makes it difficult to be sure.
The Forester also seems like a likely candidate for the Wilderness treatment. It already enjoys an outdoorsy reputation thanks to its excellent symmetrical all-wheel-drive system. A ruggedized version would likely sell well, particularly if Subaru can keep the price reasonable as it did with the Outback's off-road cousin.
We expect to bring you more information soon. The last time Subaru teased a Wilderness model, it showed off the full car just a week later. Stay tuned.