(Update: Adding video, comments from mobile home park residents; statement from park to residents)
Periodic outages make it difficult for residents to do daily tasks
BEND, Ore. (KTVZ) – While dry wells have been a concern for some time across Central Oregon, it's certainly hitting one Bend mobile home park harder than many these days.
Residents of the Juniper Hilltop Mobile Park on the north end of Bend said they are scrambling for water supplies in recent days, after the water pump went out of commission a week ago.
"Our water was kind of at a point where it was too low for the pump to pick up continuously, so it was actually cavitating, and it caused our pump to burn up," resident Chris Monroe explained Thursday.
The 760-foot-deep well the community has relied on for the past seven years has supplied water to the 49 homes in the area.
Now, as a long-term solution, management said they must dig a new, deeper well and replace the pump.
As a temporary step, they're bringing in a water truck daily to fill the pipes. But it hasn't been enough, as it runs out quickly, and residents said they are going without water for hours.
"They're trucking in anywhere from 7,000 to 10,000 gallons a day," Monroe said.
Monroe stressed that conservation has been a major struggle. As his neighbors are trying to keep up with demand, Monroe said they're not taking enough steps to use the water sparingly.
Giovanni Trujillo lives in a family of four and says his biggest concern is their health.
"Well, with the whole COVID thing going on -- we say like wash our hands and everything, and all the hygiene stuff," Trujillo said. "It's kind of difficult."
He said it's a challenge for people to do everyday tasks, because the water schedule isn't consistent.
"Sometimes it turns on and sometimes it's off. It's kind of, like, random," Trujillo said.
In the mornings, around 8 a.m., Trujillo said there's typically water, but by the time he comes home after work, around 2:30 p.m., there isn't any.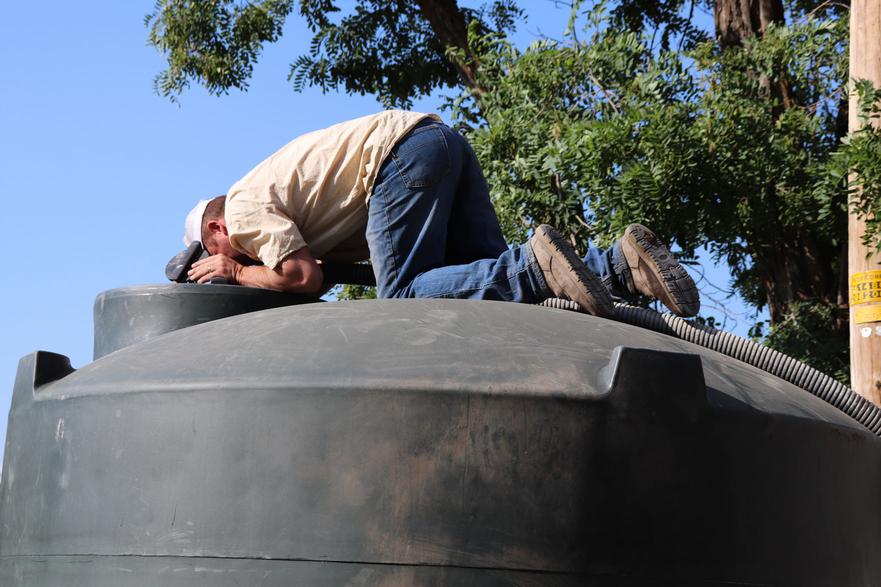 "For example, yesterday, when we had an early (schools) release, normally we would have water until say, 2 or 3, if we're doing well. Yesterday, we were out of water at 12:15," Monroe said.
He said it affects most facets of life, but the most troublesome part for him is the laundry. Although, in his case, he said he's fortunate to use facilities of friends and family to get that done.
"We are not the only ones in this predicament," Monroe said. :The water tables that we're dealing with, our aquifers -- the water level has dropped because there's been less than a sufficient amount of snowpack for the last four years."
The reality for Trujillo, as with the many other residents, is to collect and store buckets and bottles of water for bathing, washing dishes, drinking and more. His family plans to use laundry services in downtown Bend.
Trujillo said the costs are starting to add up. His family has already spent nearly $60 on water to meet their needs.
Another resident called the situation a health crisis, because once the water gets shut off at night, the pressure backflows into the cistern, which can contaminate the water. So far, there has been no notice to boil the water.
But going to the bathroom, especially for families with children, is a whole different ordeal.
One family with a young child that wanted to remain anonymous shared their frustration.
"These kids don't have a schedule like we do, they do things on their time," the resident said. "If they have accidents, it's important to be able to turn on the water. That's a big problem."
Without knowing when the water is going to disappear, Monroe said he and his family follow a system.
"Yellow, let it mellow. Brown, flush it down," Monroe said.
The community has a sizable Latino community, and the Latino Community Association is currently collecting donations of baby wipes, laundry vouchers and bottled water to help the residents.
You can drop off donations between 10 a.m. and 5 p.m., Mondays through Thursdays at 2680 NE Twin Knolls Drive, Suite 110, Bend, OR 97701
-----------
The following notice was sent to residents last Saturday:
We have enjoyed clean, fresh, tasty water here at Collective Parks Juniper Hilltop for a very long time. We want to continue this privilege going forward. However, our well pump collapsed Thursday with the strain of drought conditions due to water level falling, along with everyone's usage. Thank you for your patience and resilience the last 2 days. Water is being trucked in daily for the short term. Therefore, to conserve our drinking/cooking water, until further notice:
This is a great opportunity to test ourselves in our ability to survive with minimal necessities. We enjoy the freedom and responsibility to be self-reliant, and effectively prepare for the unexpected. Therefore, each household should have at least a 72-hour plan [3 days]; 72-hour provisions: food, water, emergency essentials, medications, money, and important papers. Remember when the park owners contributed some water for our emergency plan? Hopefully you remembered to store them in your homes for your emergency use. We are all surprised with the closeness of the August 2020 fire. We survived that emergency evacuation. Let's continue to be neighborly and courteous of each other. Let's conserve drinking/cooking water.
Park Management