Whether you are trying to sell a property, or you are simply fed up with seeing dogs fouling outside your home, then it's time to take action against man's best friend.
There are some steps you can take to help prevent a dog pooping outside your property but first, you need to understand the law.
What are the UK's dog fouling laws?
The RSPCA estimates there are around eight million dogs living in the UK, and they produce around 1,000 tonnes of waste every day.
It's the responsibility of the dog owner to pick up after their pet, and some councils strive to keep streets clean.
If you fail to pick up your pet's poo, you could face an on-the-spot fine.
This will be between £50 and £80 for failing to pick up dog mess. In some areas, you may also face a penalty if you fail to carry pooper scoopers or poo bags when walking a dog.
The rules and fines vary between councils and refusing to pay a fine could lead to a court appearance.
Indeed, Manchester is looking at banning people from walking more than four dogs at once and if they fail to comply, they could face a £100 fine.
Also, there is no legal defence for a dog owner to claim they 'did not notice' their dog fouling when questioned.
And you are still responsible if you are walking the dog on behalf of the owner.
Why dog waste is an issue
Along with being unsightly, dog waste is harmful to the environment so there are a few exceptions to the country's dog fouling laws.
There's no doubt too that dog fouling is one of the country's most popular complaints to councils and dog owners need to be aware that dog poo can cause toxocariasis – a rare infection that can lead to blindness.
And if a dog is fouling on your lawn, this can lead to disputes between homeowners and dog owners.
The issue is that dogs will poop in an obvious place, usually where another dog has also gone to the toilet.
No one wants to stand in dog mess so it's an issue for homeowners who may struggle with dogs regularly fouling either the lawn or path outside their home, but it's also an issue for anyone trying to sell their property.
It's not the best start to a viewing appointment if the people wanting to buy your home have to negotiate dog mess on the path outside.
What is the law regarding dog fouling?
In order to prevent dogs from fouling outside your property, you need to understand that the dog will be acting on instinct.
Essentially, if there's a problem with a dog fouling outside your home, it will attract even more dogs to do the same.
If this happens, you must:
How do you stop a dog from pooping in a certain area?
You could contact your local council's animal warden unit to report the issue and they may take steps to monitor the situation.
They may even clean up the mess when a problem is reported.
Some councils also offer free poop-scoops for picking up poop from the pavement.
In Scotland, the Dog Fouling Law makes clear that a maximum fine of £500 can be issued to anyone in charge of a dog who doesn't clear up after their dog.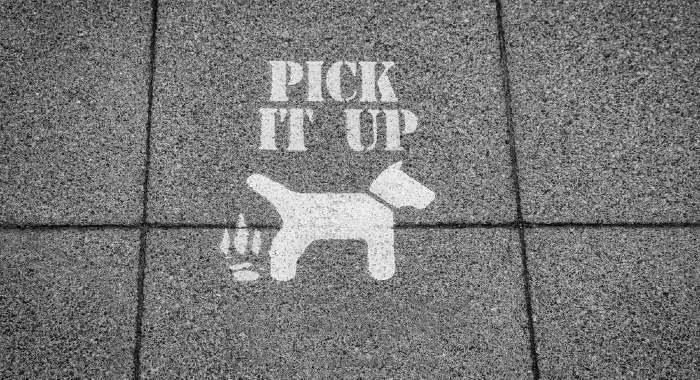 Police in Scotland can also issue an £80 Fixed Penalty Notice to a dog owner for not cleaning up after their pooch has pooped.
The natural remedies available to prevent dog fouling
Along with regularly cleaning the area where dogs are fouling, there are some natural remedies available to prevent the issue from occurring.
Firstly, using a natural remedy can be a cost-effective way to bring an end to dog fouling, but it won't work for everyone.
There are websites recommending that property owners spray a dog that is fouling outside their property, but this is likely to lead to confrontation because the dog owner is probably nearby. Not recommended.
A popular natural remedy is to use vinegar because it's a smell that dogs do not like. Apply liberally to the areas where dogs are fouling to keep them away. You can also slightly dilute vinegar and spray the area – try to do this at least once a week and more regularly if it's a serious issue.
As with vinegar, dogs do not like the smell of lemon juice or ammonia so you could use this as an alternative.
Before dogs foul a pavement, they will sniff around, and some property owners swear by cayenne or chilli pepper that has been sprinkled on the ground. This will probably work in small areas.
An alternative to using chilli or cayenne pepper is to use ground black pepper for similar results.
Other natural remedies include mothballs which you use to create a perimeter around the area that is regularly fouled.
Almond oil, as well as eucalyptus oil and garlic and citrus also work well but these tend to be more expensive.
Plants to prevent dogs from pooping
It's also worth considering plants that can repel dogs, but you need to be wary about toxic plants.
This means you will need to research carefully whether you can install a plant to deter dogs from pooping outside your home but the ones you can use include:
The scent of lavender is popular with humans but it's a smell that dogs do not like. Lavender is easy to plant and will grow and deliver a nice scent, but a dog will not want to go near it.
The curry plant, or the Helichrysum Italicum, delivers a strong curry aroma and is part of the daisy family. It is susceptible to frost but in a well-protected spot, it can be an effective way to deter dogs.
Not only do citrus trees look good and produce oranges or lemons, but the strong smell of citrus will also deter dogs. They do take a long time to become established so are not a quick win for deterring pooping dogs.
The 'scaredy cat plant', or the Plextranthus Canina, is well-known for deterring cats because of its smell. It's also proven to scare dogs away as well and the smell is not noticed by humans unless they rub against the plant.
Commercial dog fouling repellents
Along with natural remedies, it should come as no surprise that manufacturers offer commercial repellents to stop a dog fouling outside your property.
These products range in price and can be rather expensive to keep a dog at bay. Here, we take a closer look at some of them:
An effective and humane way to deter dogs, as well as cats, is the MarHermoso outdoor dog scarer. This solar-powered offering also repels squirrels and foxes and delivers an ultrasonic wave that makes animals uncomfortable but does not affect humans.
29 ReviewsUltrasonic Cat Dog Repellent, MarHermoso Outdoor Cat Scarer Solar Powered Cats Outdoor Solar Powered Cat Fox Repeller for Farm Garden Yard Dogs Cats Birds Fox Skunk Squirrels Deterrent £20.98Buy on Amazon
The RepellShield creation is a dog repellent spray that is used to prevent dogs from peeing in your home. It's useful for training dogs but can also be used as a corrector spray to help repel dogs from lawns and front gardens. It's easy-to-use and has been thoroughly tested and is worth considering.
970 ReviewsRepellShield Dog Spray Deterrent - Natural Dog Deterrent Spray Containing: Lemongrass & Citronella, A Dog Repellent for Gardens & Urine Stop for Dogs Serving As A Pet Corrector Spray for Dogs, 250ml £12.99Buy on Amazon
This C&G repellent spray is aimed at dogs and cats by using lemongrass and citrus to help prevent dogs from peeing in a specified area. Especially designed for cats and dogs, it will not harm the animals and the citrus smell is a way to prevent dogs from peeing and pooping outside your property.
4,171 ReviewsC&G Pets Urine Stop Spray for Cat and Dog Repellent | Stop Cats and Dogs Repeat Marking Indoors and Outdoors | 100% Natural Enzyme Urine Destroyer 500 ML £13.49Buy on Amazon
The Get Off My Garden product delivers jelly-like crystals with a very strong scent. These are effective in every weather condition and can be used around lawns but also on concrete. The spray will help discourage dogs from fouling gardens and lawns and may be worth using on pavements too.
1,792 Reviews2 x Get Off My Garden Cat & Dog Repellent 460g+40% £14.49Buy on Amazon
We thought it was worth adding this solar security outdoor camera from ieGeek because it's wireless and has night vision to detect dogs. It's quick to set up and once motion has been detected, there's a loudspeaker for you to warn the dog not to defecate outside your home, or to tell the dog's owner to pick up their pet's mess.
3,460 ReviewsieGeek Solar Security Camera Outdoor,Wireless CCTV Camera with Rechargeable Battery,1080P Visible Talkable Monitor WiFi Camera,Human Detection,Night Vision,IP65,Solar-Security-Camera-Outdoor-Wireless £79.99Buy on Amazon
Steps to take to prevent dogs fouling outside your home
There are some steps you can take to stop a dog from pooping in a certain area and they include:
An easy way to remind dog owners to pick up after their dogs is to install a 'Please clean up after your dog' plastic sign. This plastic material is a cheap way to notify pet owners that they have a responsibility to pick up after their dog. There are also other signs that warn dog owners that children play in that area with a 'Polite Notice' for dog owners to clean up after their pet.
202 ReviewsPlease clean up after your dog Plastic Sign (PPA17) - No Fouling, No Dogs, Waste Bin, Penalty £1000, Clean Up, Poo Fairy £1.99Buy on Amazon
It may be that the dog owner hasn't got any poop bags or a plastic carrier bag for picking up after their pet, so you could offer a supply of dog waste bags in a dispenser. This is a cheap solution and may resolve a problem that a dog owner may have.
35,425 ReviewsAmazon Basics Dog-Waste Bags with Dispenser and Lead Clip, 300 each £7.57Buy on Amazon
You could print a sign reminding dog owners to pick up after their pet has left a mess and remind them that it's against the law. The sign will need to be in a weatherproof covering.
Some people even spray-paint a warning for dog owners to clean up after their pet onto the pavement, some councils also spray dog mess in fluorescent paint, but you need to remember that you don't want to become embroiled in a confrontation that may turn physical.
Always be polite with dog owners, even though removing dog mess is an irritating undertaking, and be aware that the dog owner may be a neighbour of yours.
How to stop dogs fouling outside your house
There will be lots of people searching online on how to stop dogs fouling outside their house because it can be a serious issue.
Not only will dog mess smell and look unpleasant but there's also the health risk that comes with it.
And while there's no tried and tested solution for resolving the problem, you may find that you need to experiment with some of the ideas given in this article to find a solution that will work best for you.
When you subscribe to our email newsletter. Plus, receive a 7-day crash course on how to get higher offers on ANY type of property.
You can unsubscribe at any time.See our Privacy Policy.