Thoughts on a 65-63 win against the Illini:
No second-half miraculous comebacks this time around.
Nope, just a locked-in defensive performance against the conference co-champion, the No. 1 seed in this year's Big Ten tournament. Indiana never let the Illini get comfortable for long stretches, never let them assert dominance for too long. This was a grind-it-out victory, nothing assured till the final buzzer sounded, both teams defending at a high level and finding the slim advantages where they could.
For a second straight game, Trayce Jackson-Davis exorcised demons against a big man that's had his number. While it wasn't the 19-2 outscoring he gave Hunter Dickinson yesterday in the second half, Jackson-Davis did not wilt against Kofi Cockburn. Jackson-Davis backed him down hard for scores. Used his quickness to get by him for nifty buckets. Even straight up blocked one of Cockburn's shots. And perhaps most unlikely, with the game on the line and an open 15-footer available, Jackson-Davis confidently knocked it down to give Indiana a one-point advantage with 4:12 to go.
"I said hallelujah," Mike Woodson said of Jackson-Davis' jumper post-game.
On Indiana's next possession, Jackson-Davis caught the ball out near the left corner, made a move on Cockburn, spun right and finished the bucket with his right hand to give Indiana another one-point advantage with 3:24 to go.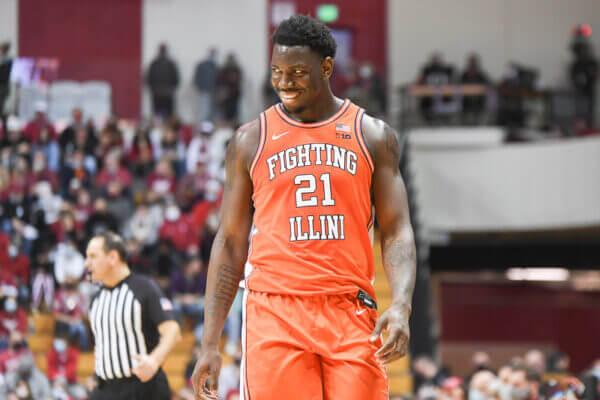 The mid-range shot and right hand are two facets of TJD's game it seemed like he'd be busting out to expand his offensive game this season. But it never really materialized. For Jackson-Davis to hit both those shots on consecutive possessions with the season on the line was nothing short of impressive. Hats off to the junior.
Jackson-Davis also hit two enormous free throws to give Indiana the lead at 64-63 with 26 seconds to play. He finished the contest with 21 points (9-of-13) and nine rebounds. Cockburn posted 23 points (8-of-13) and 10 rebounds. Instead of getting dominated, Jackson-Davis played a guy that's beat him up most of his career to a draw.
Xavier Johnson faced a much stiffer ball screen defense this time around, as Trent Frazier was physical and stuck to him hard all game long. Still, Johnson hit some key mid-range buckets where he could, on his way to 15 points (5-of-15) and was still able to dish out six assists. Illinois was plus-12 on 3-pointers (5-of-13 vs. 1-of-4) in the first half. But after the break, they made 3-of-9 against Indiana's 2-of-6, so just plus-three over the final 20 minutes. Both of those Indiana makes came from Race Thompson, huge buckets in a game both teams were desperate for scores.
The Illini struggled from the line a bit in this one (15-of-23, 65.2 percent), which mattered in a game this tight. But they also got a huge lift from Coleman Hawkins who started in place of the injured Jacob Grandison. Indiana gambled off Hawkins on several possessions and he made the Hoosiers pay. Hawkins is shooting just 30 percent on 3s for the season, but went 4-of-7 from distance in this one on his way to 18 points. He was the Illini's second-leading scorer in the contest. The Hoosiers held Illinois to .96 points per possession in this one. They were able to muster .99 on the offensive end for themselves.
Indiana's playing its best basketball of the season in March and most likely just punched its ticket to the NCAA tournament.
"We didn't pack for two days. We didn't pack for three days. We packed to win the Big Ten," Jackson-Davis said after this one.
Can the Hoosiers pull off four wins in four days? If they keep playing like this, why not?
Filed to: 2022 Big Ten tournament, Illinois Fighting Illini