Your dining rooms can become boring, unused spaces if you're not careful. Too many of us seem to think having a formal dining room means it has to be furnished with traditional, matching furniture. Well, keep your dining room, but relax the style so it gets some action more than now and then.
Start by making the room more approachable. If you have a traditional dining suite, consider breaking it up. Repurpose some of the pieces. China cabinets are out of vogue, so don't use them in the usual way. They can be storage and display cabinets.
A dated piece of furniture can be transformed by taking off its doors, painting it a fun color and moving it to a different room.
A china cabinet can become a bookcase for a family room or home office, a storage cabinet for towels and linens in a bathroom or hallway, display and storage for craft supplies in a hobby room or colorful storage for toys and games in a bonus room.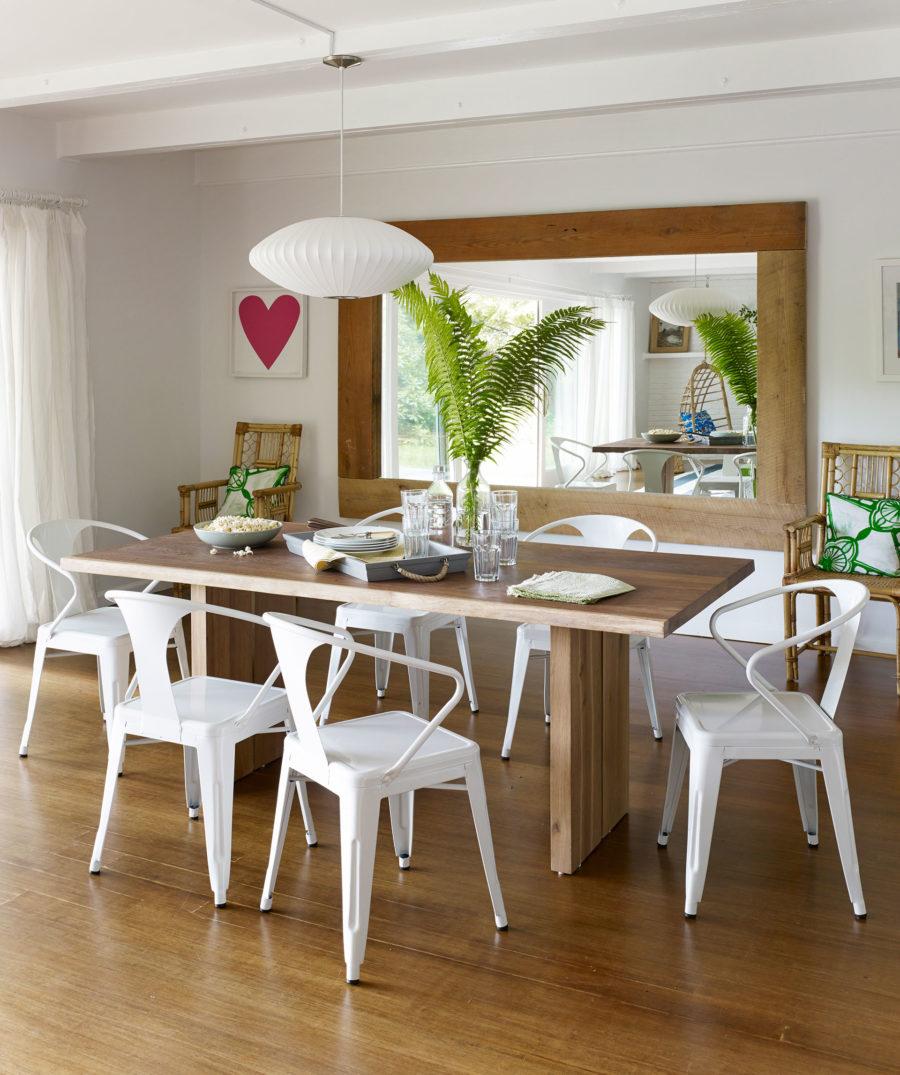 Next, mix up the seating. Replace some of your matching dining chairs with pieces that add something unexpected. Restoration Hardware has a great leather and metal chair that fits into any decor.
Leather looks casual in a dining room, and it's a great option when you have children. Spills wipe up easily. Wooden or leather benches are affordable options as well. If you're working on a budget, paint your armchairs and reupholster the seats with a coordinating fabric.
Dining tables set a tone for the room. Glass tables are formal and cold. High-gloss wood tabletops are traditional and reserved. Farm tables can be more casual and inviting. You can transform that glossy-top table by painting it or sanding it. Refinish it with a low-gloss or matte surface coat.
Painting furniture is easier when you work with the new caulk paints. These don't require so much prep work and come in a variety of colors. I used Anne Sloan's ivory caulk paint on my dark wood dining table and Paris Gray on the chairs. The warm colors changed my dining room from dressy to casual.
If you have dark, heavy draperies, take them down. Cornice boards and swags are dated window treatments. They also impart a traditional, formal atmosphere. Use a lighter linen drape with wood or bamboo shades or roman cloth shades to freshen the room and let in more light.
Chandeliers are really hot in any room. So keep your crystal beauty, but its shades should go. Replace frosted bulbs with the new industrial type. If your chandelier is brass, take it down and spray-paint it, perhaps in black, bronze or brown.
We all know how important it is to sit down as a family and have dinner together. What better place to host your family's nightly gathering than in your new dining room?