Metro officials are trying to shut down the Music City Party Tub, a truck-drawn swimming pool that has garnered major attention since it was introduced on the transpotainment scene in 2019.
Metro, in a lawsuit filed late last month in the Davidson County Chancery Court, says the Music City Party Tub is not a registered business in the state, does not have a business license and most importantly, does not have a public pool permit. (Williams has actually had a Music City Party Tub company registered with the state at various points, according to Secretary of State records, though it has gone from active to inactive and back again, and is now apparently something called Aero Nashville Flight School.)
Download PDF
The city is seeking a court order to shut the ride down, citing state health code. Metro cited as a reason for requesting the injunction the need to "assure hot tubs and pools are operated safely without transferring disease."
According to the lawsuit, Music City Party Tub operator Guy Williams showed up at the Metro Public Health Department some time before April 12, 2019, to ask about requirements for operating a mobile hot tub. An MPHD representative apparently told Williams to bring in design plans, which he did later that day.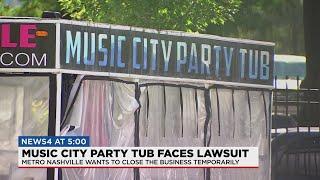 He brought the tub itself to MPHD a few days later, and health workers "walked through and around the trailer containing the mobile hot tub." No word on whether they tested the waters themselves. The investigators told Williams he needed a public pool permit and told him to fix some design issues. According to the lawsuit, he never returned and was not issued a health permit.
Then, well over a year later — and after several news stories introduced the hot tub to residents and tourists — MPHD personnel happened to see the tub in action while enforcing Nashville's COVID-19 rules for businesses.
They told Williams he was operating without a permit, to which he said he was "exempt." He contended that his pool was small enough to be exempt from a state permit, but Metro officials said no such exemption exists.
Metro Health officials showed up at the hot tub loading site in August of this year with a notice of noncompliance, and according to the lawsuit, the tub continued operating anyway.
A court hearing to consider the injunction is scheduled for Oct. 13.
Williams did not immediately respond to a request for comment.