Whether you've got an inflatable hot tub or paddling pool, they can get grimy pretty fast, so we've put together our top cleaning tips.
We Brits love our holidays, but last year the pandemic took that away from us and with a lot of uncertainty surrounding holidays this year, it seems we're taking matters into our own hands and creating holiday havens in our own back gardens.
Last year saw a huge rise in sales of inflatable hot tubs and paddling pools and this increased demand doesn't show any sign of slowing down, with eBay reporting searches for hot tubs up by a whopping 97% and paddling pools up by 98%. And while we love the idea of spending hot balmy summer days lounging in your own little garden oasis, in practice, inflatable hot tubs and paddling pools require some maintenance to keep them fresh and free from grime and slime.
Related StoryWhat celebrity gardeners are growing this year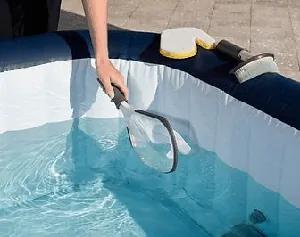 How to clean your inflatable hot tub or pool
Once drained, the inside can be cleaned with a soft cloth or sponge and some warm slightly soapy water, or use a specialist cleaning spray like this one. It's best to do this while it's still inflated so you can easily reach around the inside. Pay close attention to the water line where grease and grime can build up.
Don't use anything abrasive like scrubbing brushes as these can damage the surface and always rinse thoroughly so there are no detergent residues left when you re-fill, otherwise you'll end up with a bubble bath!
martinedoucetGetty Images
How to store your inflatable hot tub or pool
After cleaning, the most critical step in storing an inflatable pool or hot tub is drying it thoroughly. Ensuring it's dry will prevent mildew and mould growing while it's stored.
Take off any removable valves, lay out flat and carefully fold, checking for any damp spots while folding. It can be kept in a garage or shed over winter provided it's dry and protected from anything that might puncture it. We recommend placing it on a high shelf, either in a sturdy bag or storage crate.
Related Story6 clever small garden design ideas
Top tips for keeping the water in your hot tub or pool fresh
Hot tub cleaning kit
Pro-Kleen Hot Tub Surface Cleaner SprayPro-Kleenamazon.co.uk£9.95SHOP NOWSgarton Professional Pool Landing NetSGARTONamazon.co.ukSHOP NOWClearwater CH0019 Chlorine TabletsClearwateramazon.co.uk£13.14SHOP NOWSpontex Super Absorbent Handy SpongeSpontexamazon.co.uk£1.00SHOP NOW
Like this article?Sign up to our newsletterto get more articles like this delivered straight to your inbox.