New low-cost acrylic clawfoot bathtubs by Randolph Morris
Traditional cast iron clawfoot tubs are heavy
Hazleton, PA (PRWEB)March 9, 2009
Vintage Tub & Bath, the industry's largest privately-owned online retailer of clawfoot bathtubs, has just launched their new line of acrylic clawfoot bathtubs as an alternative to traditional cast iron according to company Chief Marketing Officer, Allan Dick.
"Traditional cast iron clawfoot tubs are heavy," said Allan. "The average cast iron tub weighs 400 pounds which makes them difficult to move. Our new Randolph Morris acrylic tubs weigh a fraction of cast iron and are much less expensive."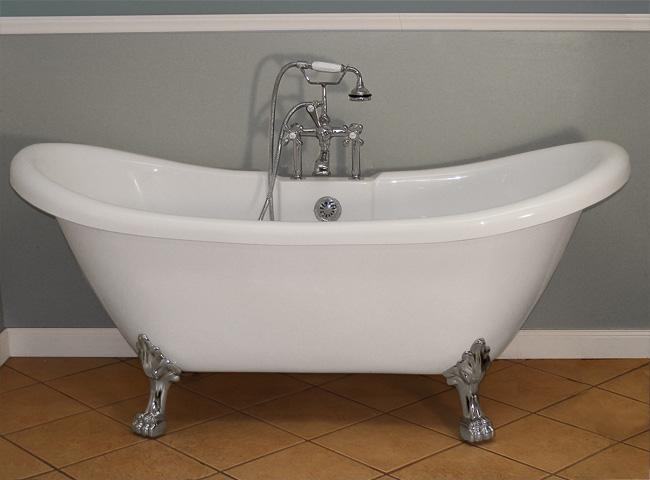 According to Allan, many customers enjoy the advantages of this new lightweight acrylic construction without sacrificing the look and elegance of traditional cast iron tubs. However, recent advancements in manufacturing now make the price of acrylic more affordable for everyone.
"Acrylic clawfoot bathtubs aren't new," Dick explains, "but they have never been priced as low as cast iron clawfoot tubs until now. Randolph Morris cast iron tubs provide budget-conscience customers with high quality at a low cost. We are now able to do the same with our acrylic line."
Shoppers won't find Randolph Morris in their local bath supply stores, however. Vintage Tub & Bath sells all their products, including Randolph Morris, exclusively on their website.
For more information about Vintage tub & Bath or Randolph Morris, visit their site at VintageTub.com or call 877-868-1369.
About Vintage Tub & Bath
Founded in 1992, Vintage Tub & Bath has become the largest family-owned online retailer of clawfoot bathtubs. An exclusive Internet retailer, Vintage Tub & Bath has been named among Internet Retailer's Top 500 companies for three years in a row.
# # #