Ideas and inspiration as selected by Amelia Thorpe.
Twin basins are the secret to a happy marriage. A stylish option is the elegant Pyrford Double washstand in Verde marble with an Aged Brass frame and shelf, from £10,620, Catchpole & Rye www.catchpoleandrye.com
---
Leading premium bathroom retailer C. P. Hart recently invited a small group of designers to create room sets at its London flagship showroom in Waterloo. The striking results are worth a trip in itself and include this design by Eva Sonaike — www.evasonaike.com, who teamed her signature Odi scheme with a selection of C. P. Hart's fittings for a bathroom inspired by beach houses on West Africa's Atlantic seashore. www.cphart.co.uk
---
Combining leafy notes with natural warmth, Neptune's English Fig hand and body wash, £20 for 300ml, brings a touch of fresh luxury to bathtime, even in the depths of winter. www.neptune.com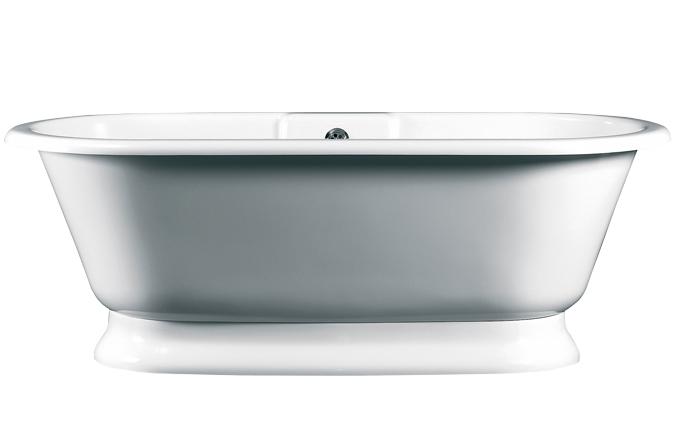 ---
New Ravenna, the US specialist in custom stone and glass mosaics, has created Harriet, a geometric design in delicate hues, from honed Cloud Nine and Desert Pink stone. It costs £2,028 per sq m from West One Bathrooms. www.westonebathrooms.com
---
Yes, you could get a towel rail from Screwfix for £45. But why would you want to do that when you could have one which is a work of art? From £5,442, Drummonds. www.drummonds-uk.com
---
Yes, you could get a towel rail from Screwfix… Oh, sorry, we already did that line. Anyway, the sentiment still stands. This one is £1,224 from Porter. www.porterbathroom.com
---
This towel stand is so elegant it'll bring a tear to the eye (as might the price tag, sadly). it's £1,018 from the aptly-named Waterworks. www.waterworks.com
---
8 beautiful bathroom accessories
Create the perfect bathroom with these stylish accessories.
Why we're renewing our love affair with traditional bathrooms
Modern bathroom design has thrown the baby out with the bathwater, says Giles Kime – but the classical fittings we used
The surprising secret of marital harmony: not two bathrooms, but two basins
Michael Caine swears by separate bathrooms. You don't need to go quite so far, says Giles Kime.
'The bathroom should be an extension of the rest of your home, so don't be afraid to treat it that way'
Interior designer James Thurstan Waterworth shares his thoughts on creating the perfect bathroom.