There's been a lot of discussion recently about thehybrid workplaceand what the office will look like in a post-pandemic world. ForLIXIL, home to the iconic kitchen and bathroom brandsAmerican StandardandGROHE, the thought of reinventing its Americas headquarters in Piscataway, NJ, to meet the needs of its diverse employees by creating an open, collaborative and innovative work environment was already underway well before COVID forced everyone else to consider it.
With design beginning in 2019, the pandemic simply accelerated LIXIL's plan, which included an emphasis on putting people first and a focus on the well-being of employees. The company wanted them to have efficiency, to be comfortable and to create a place for employees to come into the office and work collaboratively when they weren't working from home.
"The layout of the space is not a reflection of what happened the last 18 months," said Jean-Jacques L'Henaff, leader of Global Design & Consumer Experience at LIXIL Americas. "The overall direction that we took for the design of the space was more or less defined pre pandemic. We had actually looked at how people were working, how they aspire to work and how we were literally utilizing our operating space."
LIXIL conducted a broad analysis of how its office space was being used and found that there was a lot of wasted and unused space in its old office space. As a result, the company decided to downsize the new office and make it more suitable for collaboration while recognizing not all employees will be in the office at once under the hybrid approach.
With a total employee headcount in mind, the design team atGensleraimed to reduce the number of fixed seats by 70 percent as the client transitioned to an unassigned arrangement.
Pandemic Pivots
What did change due to COVID, however, was the way the design team worked with the client.
"Some of the process changed a little bit, because we had to do a lot more visual collaboration," recalled Janine Intonato, design director at Gensler. "So, our work tools were a little bit different in how we shared the design process."
Gensler created a digital walkthrough experience and updated it every two days, enabling project managers to get a sense of the space and progress remotely.
If the pandemic had any visual impact on the design of the space, it's seen in the new headquarters' fullytouchlessbathroom experience that supports hygiene and employee safety. From entry, to use—opening and closing a stall, flushing the toilet, handwashing—to exit, the touchless bathroom features both familiar and new designs and technology from among LIXIL's collection of restroom brands, which include American Standard, GROHE andINAX.
Welcome Home
Among LIXIL's corporate values are respect and ensuring that employees feel valued, "and so we wanted that to be felt when they enter the space," L'Henaff noted. "That's why you have color palettes that use natural finishes and that use neutral tones. It feels very much like a home. It's very welcoming, very inviting."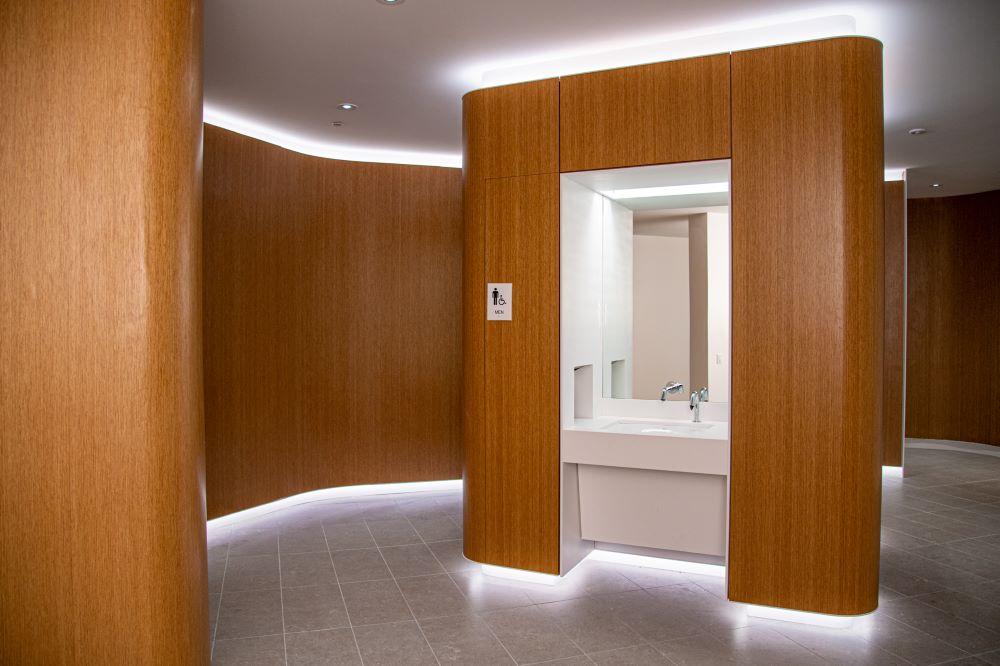 Intonado agreed and said the design scheme was built around the LIXIL culture and the idea of good living, the comforts of home and wellness. Details like wood accents, subdued finishes, interior plants and a cognac, antique leather sofa at the entry add a touch of warmth and a welcoming feeling to the space. These seemingly straightforward details proved to be far more important to the design in a post-pandemic world than perhaps initially realized.
[Related: Office Matters, Part 1: Reviving Work at the Office]
"It was interesting—when we were building that inspiration for that whole 'comforts of home' [concept], we didn't realize how relevant it would be, thinking about bringing people back to the office and giving that same sense of home into the workplace," Intonado said. "But it's really part of the LIXIL culture of wanting that [sense of] good living."
The heart of any home is the kitchen, of course, and Gensler created a large pantry area that serves as both a place to grab a bite to eat, to interact with employees or as an alternate workspace. "We designed these work pantries that are along the central circulation and flow that feel like a big kitchen table," Intonado explained, which also lend another layer of the residential influence to the space.
A Place to Collaborate
As part of its new agile and empowering culture, LIXIL embraced new ways of working, encouraging employees to work remotely on a more permanent basis while providing a workspace for collaboration when needed at its Americas headquarters office.
L'Henaff noted that it was important for LIXIL to foster greater collaboration between its employees. So, when Gensler was working on the space, he said they were deliberate about creating both traditional meeting rooms that can be booked, but also plenty of informal spaces that present opportunities for people to intersect.
"That's what the value of the office is, really," L'Henaff observed. "It's not to sit in a cubicle and do your work, because you can do that at home today. It's really about creating a place where you can intersect, which is very important, so we made sure that there are a lot of a lot of areas where this can happen in the space."
These social areas are vital, especially with reduced in-person capacity, because the social aspect of the office is the piece that's missing while working virtually. If employees plan to make numerous one-on-one calls with customers, they can stay home that day, or they can come into the office for more collaborative work.
The new corporate office was also designed to create flexible work neighborhoods that make leadership more visible and eliminate barriers to collaboration. The workspace features stations for video conferencing, a variety of different sized conference and huddle rooms and open areas conducive to everything from on-the-fly meetings to town hall gatherings.
Brand Integration
With several brands under the LIXIL umbrella, the infusion of branded aspects occurring naturally throughout the space was a key design element as well. Previously, the company's three main brands —American Standard, GROHE andDXV—were siloed, where each was limited to its own area where their fixtures were featured, according to Intonado.
"The way we designed the space now, it really created an authentic brand experience," she said. "We are bringing the products like American Standard to their work pantries where they're utilizing those, as well as these GROHE Blue hydration stations and INAX tiles, so it's showcasing their brand in the actual workplace."
The benefit of integrating the various brands across the new space is that employees get to use the products they're developing and selling. And with a new space that helps them collaborate and work together more effectively, L'Henaff believes it will better reflect LIXIL's values and vision to its customers as well.
"When a customer comes here, the things they're going to see is a company that deeply cares about their employees and team members, and a company where there is a lot of that very quick collaboration between departments that is being fostered. And I think that's the future work," he concluded.
Read next: Returning to Work: The New Ways Companies Are Investing in Health and Wellness