Photo: amazon.com
Regular watering helps ensure your grass, flowers, and other plants grow strong. If you rely on a watering can, it can be difficult and time-consuming to water. With a lightweight garden hose, you can quickly mist a vegetable or flower garden.
Lightweight garden hoses provide access to water almost anywhere in the yard. Not only can you use a hose to water the lawn and garden, but you can also connect it to a power washer to clean the patio, paving stones, and deck.
For help finding the best lightweight garden hose for your home, some of the best options appear below. Keep reading for more shopping tips and important hose selection considerations.
Photo: amazon.com
What to Consider When Choosing the Best Lightweight Garden Hose
Many different types of lightweight garden hoses are available. Remember some key considerations while shopping for the best lightweight garden hose, including the material, length, and storage.
First, consider which type of hose is best for specific watering tasks. Lightweight garden hoses come in several different models, including standard, soaker, sprinkler, flat, coiled, and expandable.
Lightweight garden hoses are made from a variety of materials including vinyl, latex, rubber, polyurethane, plastic, and metal.
The couplings or fittings on a hose refer to the parts at either end that thread to an outdoor faucet, connect to a sprinkler, or attach to a nozzle. The couplings may be made of inexpensive plastic. Metal, a more reliable material, is resistant to changes in temperature and pressure as well as the strain that occurs when the hose is pulled.
Female couplings consist of a wide piece of metal or plastic that spins freely at the end of the hose. This coupling fits over a male fitting, which threads down to create a tight seal. The male coupling is a fixed piece of metal or plastic that must thread into a female fitting to connect properly. Consider an octagonal-shaped female coupling because it's easier to turn and tighten than a completely round one.
Lightweight garden hoses are typically measured by the hose's diameter and the material's ply. Diameter, which is measured across the opening of the hose, determines the space available for water to flow. The standard diameter for a residential garden hose is ⅝ inch, but hoses also come in ½-inch, ¾-inch, and 1-inch diameters. Even larger diameter hose are used in commercial applications.
Ply indicates the number of layers used in the hose's construction, generally ranging from one to three for lightweight hoses. Thicker hoses withstand higher water pressures and the damage that can occur when the hose is pulled over rocks or rough decking. However, the hose's ply isn't always mentioned on the packaging.
Consider the length of a hose, because the hose must be able to reach into the yard or around the home to perform different watering tasks. The most common length for a garden hose is 50 feet, but they also are made in 10-, 15-, 25-, 75-, 100-, 125-, and 150-foot lengths.
However, as the length of a hose increases, so does the friction and drag on the water traveling through it, resulting in lower water pressure as the distance from the water source increases. Shoppers must balance the desired length with the optimal water pressure required for adequate watering. Those who want a very long hose may consider a product with a wide diameter, which helps maintain relatively consistent water pressure from the faucet to the end of the hose.
A hose's flexibility determines how it can be stored and whether it will develop kinks, cracks, and leaks. Flat hoses are designed specifically to reduce the likelihood of kinks, so they're a good option for long hose runs, while coiled hoses are intended for compact storage.
Standard hoses typically have the least flexibility, so they often are used for short, straight hose runs. Expandable hoses are made to fill up and out with water, though their flexibility may lessen over time. Very flexible hoses are easier to wrap and store in a garage or shed during colder months. Users may have to feed stiff hoses onto a hose rack for storage.
Our Top Picks
With so many choices available, picking the best lightweight garden hose may be an overwhelming task, but this list of Top Picks might help. These hoses were selected based on type, material, size, and length, along with attention to durability and overall quality.
1Photo: amazon.com Check Latest Price
This lightweight garden hose has an eight-function spray nozzle, so users can rinse pets, wash the car, or water the garden with the same hose. Designed to prevent kinks, this 3-pound hose can expand from 17 feet to 50 feet when filled. After the water is off, the hose returns to its compact size for storage.
The ¾-inch solid brass couplings are fitted to either end of the hose with a rubber seal in the female coupling, helping prevent leaks. A built-in shut-off valve at the male coupling provides effective water control. The expandable garden hose has two layers of flexible latex and an exterior layer of durable polyester to help protect the latex from cuts and scratches.
Pros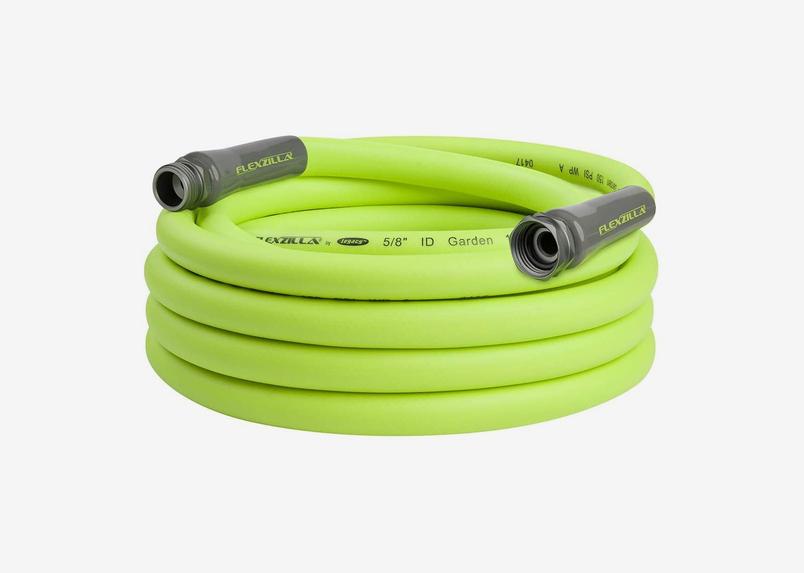 Cons
2Photo: amazon.com Check Latest Price
Melnor's lightweight hose helps gardeners water delicate plants or the garden on a timer. The soaker hose seeps water slowly along the length of the hose, managing the output at all times.
The vinyl soaker hose comes with a plastic female coupling and a capped plastic male coupling to prevent the water from flowing out of the end of the hose. Drain the hose by removing the cap or connect it to a second soaker hose, though low water pressure may occur beyond 75 feet. When setting up this 2-pound hose, avoid sharp curves because soaker hoses are susceptible to kinks.
Pros
Cons
3Photo: amazon.com Check Latest Price
The Swan Products sprinkler hose, which is intended to replace sprinklers and soaker hoses, has the ability, when upright, to spray a broad section of grass or garden. Turn over the hose to spray water into the ground, where it acts as a soaker hose to hydrate the ground around plants.
This rubber garden hose weighs just under 2 pounds and is 50 feet long. Use its plastic couplings to attach it to the water faucet. Its flat design, which helps prevent the hose from twisting or kinking, makes it easy to roll up and store when not in use.
Pros
Cons
4Photo: amazon.com Check Latest Price
With a ½-inch diameter, this Instapark coiled garden hose is made of durable rubber with brass couplings at both ends. It features a cushioned hose sleeve above the female coupling to help grip the hose while fastening it. The Instapark lightweight garden hose is coiled tightly into about 30 coils, allowing storage in a locker or 2-by-3-foot garden box.
Its seven-pattern spray nozzle quickly switches the output between mist to spray. This garden hose weighs just over 1 pound, and it's 25 feet long when fully stretched out. However, pulling the hose to its entire length may put a strain on the couplings, causing leaks or ruptures.
Pros
Cons
5Photo: amazon.com Check Latest Price
The expandable lightweight garden hose from GAGALUGEC is just 17 feet long, but when filled, it expands and extends about three times its original size to 50 feet. This flexibility is provided by a durable dual-layer latex core. A protective polyester cover fabric keeps the hose safe from cuts, nicks, and punctures.
This lightweight garden hose has a nine-function spray nozzle and a storage bag to keep the hose safe from pests. Completely drain the hose before packing it into the bag to avoid the buildup of fungus, mold, or bacteria. The hose has a ⅝-inch diameter and brass couplings, and a built-in shut-off valve on the male coupling allows easy water control at the end of the hose instead of the faucet.
Pros
Cons
Our Verdict
Selected for its ample reach of 50 feet, its lightweight 3-pound construction, its eight spray-types nozzle, and two couplings, we selected the Flexi Hose as our Best Overall pick for those in need of a versatile hose that can handle large landscaping and watering tasks, car washing, or even bathing the dog.
For those looking for something more moderate and priced affordably, the Melnor hose offers a 2-pound construction and 75-foot length for light watering jobs and caring for delicate plants with the added advantage of folding completely flat for storing.
How We Chose the Best Lightweight Garden Hoses
After evaluating all the key factors that should be included in a lightweight garden hose, we determined that these top picks are the best for a variety of outdoor projects.
Many of the above options do not weigh more than 3 pounds and can expand to up to 75 feet in length. Each of these hoses comes with couplings for easy attachment to indoor or outdoor water sources and faucets. Plus, many of these options retract for storage when not in use.
Some of these options also come with the advantage of durable constructions that resist tangles and kinking and nozzles with multiple spray types for any outdoor job. However, do take note that many of these options need to be drained and stored after use.
FAQs About Lightweight Garden Hoses
After reading about some of the top lightweight garden hoses, some questions may linger about hose length, thickness, and expected life span. Below are answers to some of the most common questions about lightweight garden hoses.
Yes, hose length affects water pressure. The longer the hose, the more friction and drag the water must overcome as it travels down the length of the hose. This length can reduce the water pressure.
The thickness of the hose also can impact water pressure. As thickness increases, it can cause the diameter of the hose to become smaller, which will reduce the water pressure from the hose.
A lightweight garden hose typically lasts between 5 to 10 years.