Some of the best architecture by today's foremost practices is revealed as the World Architecture Festival (WAF) Awards announces its 2021 shortlist, celebrating buildings and landscapes to have been completed across the world between 2019 and 2021. The 200-strong shortlist has been selected from over 700 entries from countries ranging from China and Japan to Mexico and Ecuador.
Amongst the shortlist for the WAF Awards, the world's biggest architectural awards programme, are: a stylised urban landscape linking Abu Dhabi's desert to its modern city grid; Heatherwick Studio's Singapore skyscraper, Eden; China's Culture Exhibition Centre featuring a sun and a moon pavilion, and a tourist development on a Persian Gulf island built to empower the local community.
The theme for the 2021 edition of the festival is: 'Resetting the City: Greening, Health and Urbanism' and the awards attracted 732 entries from 55 countries, submitted across 20 completed buildings and landscape categories; an increase of 44% in submissions from 2019's edition of the festival.
WAF will reconvene this year in Lisbon, at the FIL exhibition centre, from 1-3 December, the first time the event has been hosted in the Portuguese capital following previous editions in Amsterdam, Barcelona, Singapore and Berlin.
Other major world architects shortlisted this year include: B.I.G. Architecture, Zaha Hadid Architects, Foster + Partners, Rafael Viñoly Architects, Grimshaw Architects and Skidmore, Owings & Merrill (SOM). The 20 completed buildings and landscape categories range from Housing, Office, Transport, Health and School to Civic and Community, Sport, Religion, Culture, and Production Energy and Recycling, with entries representing the most beautiful to the most innovative in contemporary architecture.
The architects and designers behind each shortlisted project will compete for category prizes live at WAF in December. Presentations of the shortlisted designs will be made to more than 100 international juries in front of festival delegates. Category winners then compete against each other on the final day of the festival, to compete for the ultimate accolades of World Building of the Year, Future Project of the Year, Interior of the Year and Landscape of the Year.
WAF programme director Paul Finch commented: 'We are delighted with both the quantity and quality of this year's entries. This promises to be the most competitive awards programme we have ever run, and we look forward to meeting the shortlisted architects in Lisbon.'
The completed buildings 'Super Jury' which will decide the World Building of the Year 2021, includes: Jeanne Gang, Founding principal and partner, Studio Gang, Abdelkader Damani, Artistic Director, Frac Centre-Val de Loire | Biennale d'Architecture d'Orléans, Kim Herforth Nielsen, Co-Founder & Principal, 3XN Architects and Christina Seilern, Principal, Studio Seilern.
The 'Super Jury' for the Landscape of the Year includes: Robert Schäfer, Landscape Architect & Journalist, Brita von Schoenaich, Principal, Bradley-Hole Schoenaich Landscape, Lily Jencks, Founder, LilyJencksStudio | JencksSquared, Todd Langstaff-Gowan, Landscape Architect, Historian, Author and Collector, and Todd Longstaffe-Gowan Landscape Design.
The full shortlist for this year's completed building awards can be viewedhere.
The full shortlist for this year's landscape project awards can be viewedhere.
WAF and its co-located event, INSIDE World Festival of Interiors, will welcome the world's leading architects and designers to Lisbon for three days of conference programmes, awards, exhibitions and fringe events from 1-3 December.
For more details on the 2021 World Architecture Festival and the WAF Awards please visit: www.worldarchitecturefestival.com
@worldarchfest #WAF21
Notes to Editors:
About World Architecture Festival (WAF)
World Architecture Festival and INSIDE World Festival of Interiors will take place at the FIL exhibition centre, Lisbon, on the 1-3 December 2021.
WAF is where the world architecture community meets to celebrate, learn, exchange and be inspired.
WAF is the world's largest annual, international, live architectural event. It includes the biggest international architectural awards programme in the world, dedicated to celebrating excellence via live presentations to an audience of high-profile delegates and international juries.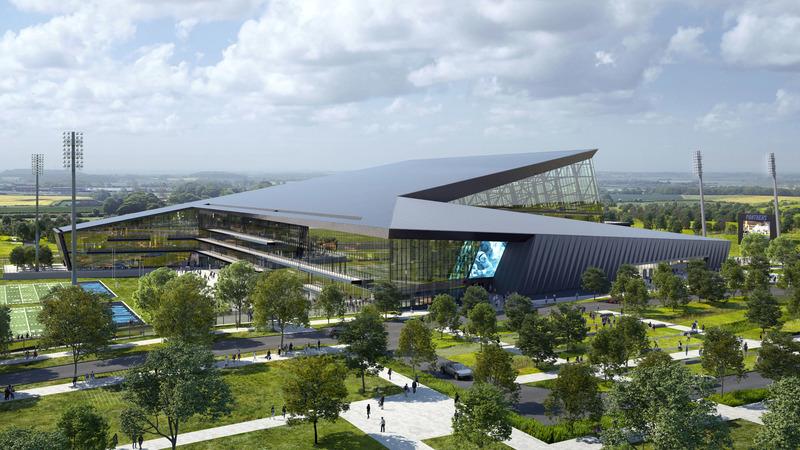 The 2021 World Architecture Festival (WAF) comprises:
- A thematic conference programme (based on the theme: 'Resetting the City: Greening, Health and Urbanism' - Electronic gallery of all Award entries- Exhibition area- Live judging of finalists 'projects
- Networking and social events including partner fringe events - Winners Dinner
INSIDE World Festival of Interiors runs alongside WAF, with its own awards and conference programme. Delegates have access to both events.
WAF and INSIDE are organised by EMAP, publishers of The Architectural Review and The Architects' Journal.
Sponsors
WAF is proud to work with all our valued partners including Founder Partner, GROHE, and headline partners ABB and Miele.
About GROHE
GROHE is a leading global brand for complete bathroom solutions and kitchen fittings. GROHE is headquartered in Germany has been part of the LIXIL Group Corporation since 2014. Our products combine award-winning design with the most sophisticated technologies and the highest-quality materials.
As the founder sponsor of the World Architecture Festival, we are proud to support this important event for the twelfth consecutive year at the RAI Amsterdam. In addition to presenting our latest collections, we'll be offering complimentary food and drinks every day, making the GROHE stand an ideal rendezvous and networking point during the event. If you're arriving straight from the airport, enjoy a light breakfast on the GROHE stand with our compliments. We have invited many leading developers and GROHE partners to enjoy this annual spectacle of architecture and we are sure they would enjoy meeting the crème de la crème of the industry on our stand.
Pass by our stand this year and be the first to see the unveiling of our latest collections at the Festival. GROHE will present our first 3D metal-printed faucets combining cutting-edge technology with spectacular design, together with our Essence Colors and water filtering solutions called GROHE Blue Home turning tap water into fresh water.
As in previous years, GROHE is sponsoring World Building of the Year Award that will be presented at the end of the Gala Dinner. GROHE is also sponsoring the awards for the categories Hotel and Leisure, Housing and Residential.
If you're presenting a project at the Festival, we wish you the very best of luck!
About ABB
ABB (ABBN: SIX Swiss Ex) is a pioneering technology leader with a history of innovation spanning more than 130 years. Today ABB focuses on digital industries with four customer-focused, globally leading businesses: Electrification, Industrial Automation, Motion and Robotics/Discrete Automation, supported by its common ABB AbilityTM digital platform. ABB operates in more than 100 countries with about 147,000 employees.
Within the electrification business ABB ́s German daughter Busch-Jaeger Elektro is one of the world's leading suppliers of electrical solutions for the building sector and its expertise can be found proven in numerous hotels, condominiums, offices, retail-, public-, cultural- and residential buildings around the globe.
Solutions provided include the whole range of products: from innovative, design oriented wiring accessories to the control of building-functions via touch panels, smart-phones, - tablets as well as voice control.
The ABB Busch-Jaeger portfolio stands for maximizing the comfort and safety in buildings for building users and minimizing energy consumption and overall ecological footprint.ABB ́s "Mission to ZERO" campaign 2019/20 draws worldwide attention to ABB ́s cutting edge technological portfolio.
About Miele
Miele is held in high esteem as the world's leading manufacturer of premium appliances for cooking, laundry care and floorcare. Miele also make dishwashers, washing machines and tumble dryers for commercial use as well as appliances for the reprocessing of medical instruments and laboratory equipment ("Miele Professional"). With its own sales companies or importers Miele is represented in about 100 countries.
The Miele company, founded in 1899, has eight production plants in Germany as well as one plant each in Austria, the Czech Republic, China and Romania. 2017/18 turnover amounted to approx. EUR 4.1 bn with sales outside Germany accounting for 70%. Miele is represented with its own sales subsidiaries and via importers in almost 100 countries. The Miele company, now in the fourth generation of family ownership, employs a workforce of around 20,100, 11,200 thereof in Germany. The company headquarters are located in Gütersloh/Westphalia, Germany.