Canadians are overwhelmingly getting into SUVs, but not everyone wants to go big.
There are a lot of entries in the subcompact sport-utility segment, including the 2021 Toyota C-HR. New for 2021 is a Nightshade appearance package, available only on this XLE, which is the middle of the C-HR's three trims. My tester started at $26,550 and the Nightshade added $1,655, bringing my vehicle to $30,045 before tax.
Styling: 8/10
The C-HR is a bit of an odd-looking duck, but it's still pretty likeable. The bold-faced styling swings back into heavy haunches over the rear wheels, finishing with an angular rear end. The taillights look a little odd, though, sticking out from the fenders as they do. The Nightshade package adds a black roof, badges, and front lip spoiler, and 18-inch black wheels.
The cabin design is equally funky, but that curved dash and left-leaning centre stack make the controls easy for the driver to reach. The tablet-style infotainment screen keeps your eyes up toward the road when you're looking at it, as well.
Safety: 9/10
The Insurance Institute for Highway Safety (IIHS) gives the C-HR its Top Safety Pick designation, while the United States National Highway Traffic Safety Administration (NHTSA) gives it the top five stars, but models made at Toyota's plant in Turkey only get four, losing one for frontal crash. My Japanese-built tester had "J" as the first letter in its vehicle information number (VIN). Those from Turkey start with NL or NR.
All trims come standard with Toyota's suite of advanced safety features, including emergency front braking with pedestrian and bicycle detection, adaptive cruise control, lane-keeping assist, and automatic high-beam headlights. My XLE Premium then added blind-spot monitoring, while the top-line Limited further gets adaptive headlights.
Features: 8/10
Overall, vehicles in this segment may be small, but they're not bare-bones. Along with the safety-assist items, all C-HR trim levels include an eight-inch infotainment touchscreen with Apple CarPlay and Android Auto (there's a "map" button, but the navigation card is a dealer accessory), dual-zone automatic climate control, cargo cover, windshield de-icer, LED headlights, and tire pressure monitoring system.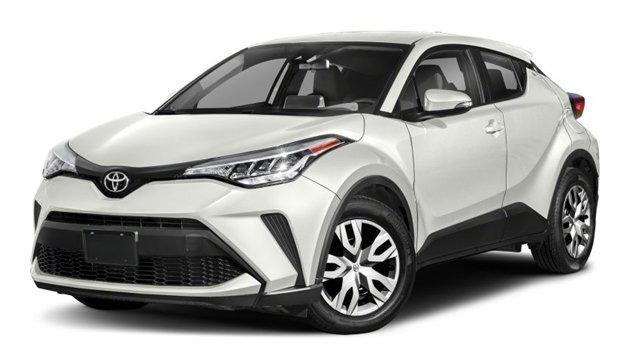 My midline XLE further added heated seats, heated steering wheel, 18-inch wheels, proximity key, push-button start, and blind-spot monitoring. However, I would have gladly traded its power-folding mirrors for its missing power-adjustable seat. You get that power chair in the top-line Limited, along with leather upholstery, adaptive headlights, fog lights, and satellite radio.
User Friendliness: 7.5/10
The C-HR's controls are mostly buttons and toggles, quicker and less distracting than adjusting functions through pages on the touchscreen. That screen is also easy to use, with hard buttons to bring up the menus, and then simple icons to make things happen.
There are a couple of exterior quirks, though. The hatch release is above the licence plate, which doesn't give much leverage for lifting the hatch. Putting the release at the bottom would ruin the hatch's smooth look, but make it more user-friendly. The rear door handles are tucked up near the roof. That's fine for adults, but it's a long reach for smaller children, who also have to stand so close that they might smack themselves in the face with the door when they open it.
Practicality: 7.5/10
Size-wise, the C-HR sits about middle of the segment, and even between some competitors' offerings. It's larger than Mazda's CX-3 but smaller than the CX-30; likewise, it's between Chevrolet's Trax and Trailblazer.
With the rear seats up, it has more cargo space than the CX-3, Trax, or Hyundai Venue; but it falls short of the Ford EcoSport, Honda HR-V, Hyundai Kona, or Subaru Crosstrek. The liftover is a bit high but still manageable. Up front, small-item storage could be better. There's a handsome curve in the console, but putting a cubby there would be more appreciated.
Comfort: 7/10
The C-HR has more front-seat legroom than most competitors, but less in the rear seats, where the small windows make it dark and claustrophobic. Two adults back there were fine for a short trip, but then this is meant as a city commuter and not a long-distance highway hauler. The front seat cushions are a bit short and not as supportive as some, but they have three-level heating on the two top trims.
The ride is firm but smoother than expected. However, the C-HR is noisy. You might not feel most bumps, but you hear them.
Power: 7.5/10
The C-HR uses a 2.0L four-cylinder that makes 144 hp and 139 lb-ft of torque, mated to an automatic continuously variable transmission (CVT). It's more horsepower than the Honda HR-V, Nissan Kicks, or Hyundai Venue, but less than the Hyundai Kona or Subaru Crosstrek.
Acceleration is leisurely, but once it gets going the C-HR will keep up at highway speeds. It's noisy when you put your foot down firmly, but once you're cruising the engine and transmission settle down with just a hint of rumble.
Driving Feel: 8.5/10
It may not be a powerhouse, but the C-HR is quite fun to drive. It's nimble and well-poised around corners, and it's quick to respond to steering wheel input. The steering itself is light, and I'd like it to transmit more feedback to the driver, but that's the case with many in this segment. The turning circle is tight and it's easy to manoeuvre in parking lots. Those small rear windows cut down on visibility, so be sure your mirrors are properly adjusted.
The C-HR only comes in a front-wheel drive (FWD) configuration. That's also the case with the Nissan Kicks and Hyundai Venue, but vehicles like the Ford EcoSport, Mazda CX-3/30, Chevrolet Trax, Honda HR-V, and Hyundai Kona offer all-wheel drive (AWD) as an option, and the Subaru Crosstrek features it standard.
Fuel Economy: 8/10
Natural Resources Canada (NRCan) rates the C-HR at 8.7 L/100 km in the city; 7.5 on the highway; and 8.2 in combined driving. In my week with it, I came in higher at 9.5 L/100 km.
That 8.2 L/100 km is about average for the segment. It's better than the Ford EcoSport, at 8.4 or 9.2 depending on the engine; or 8.4 for the FWD Chevrolet Trax; but trails the Mazda CX-3 at 7.7; the Nissan Kicks at 7.2; and the Hyundai Venue at 7.5; while the AWD Subaru Crosstrek is rated at 7.9 L/100 km.
Value: 8/10
The C-HR starts at $25,790 before tax but including its non-negotiable $1,840 freight fee and tops out at $30,990. Although I'd appreciate the top-trim's power seat, I'd likely choose my mid-range XLE Premium at $28,390 and leave off my tester's $1,655 Nightshade package, mostly because I'm not a fan of black wheels.
Toyota's about midrange for price. The Hyundai Venue and Kona undercut it, as do the Nissan Kicks and Chevrolet Trax. You'll pay more for a Ford EcoSport or a Honda HR-V, while the Subaru Crosstrek and its standard all-wheel drive starts at a little less but can be priced well beyond depending on trim.
The Verdict
The 2021 Toyota C-HR isn't the runaway leader in this segment, and it has its faults, but it's also fun to drive, includes a lot of safety-assist features, and it's intelligently priced. If you're looking at the small side of sport-utility, try this one out.
View All
Competitors