Based on the T60 Luxe specification, the Megatub gets an impressive rap sheet of specifications for the $34,990 asking price. That's a drive-away offer for ABN holders, with a six-speed manual gearbox. Opt for the six-speed automatic like our test vehicle, and you're looking at $36,990.
Perhaps most impressively, the Megatub costs only $1500 more than a standard-wheelbase T60 Luxe.
Standard kit includes proximity key and push-button start, 10.0-inch infotainment display, 360-degree camera, adaptive LED headlights, heated electric leather seats, lane-departure warning, tyre pressure monitoring, leather steering wheel, auto-dimming rear-view mirror and 19-inch alloy wheels.
The big difference with this Megatub is the 3470mm wheelbase, which makes the T60 plenty big. That's 315mm longer than the standard T60, and yields you a tub that's 275mm longer. The tub now measures 1800mm long internally, lining it up more with an extra-cab ute that can only seat two adults and two leprechauns.
Overall length is now 5680mm, up from 5365mm. It's the next example of an emerging trend in 4x4 utes: Ssangyong's Musso XLV brings additional length, as does Volkswagen's recently announced local XL and XXL conversion offers.
The longer wheelbase means the rear wheel is positioned more complementary to load-lugging, by letting you load more in between the axles. And more tub means more space: you can fit in more stuff, at the end of the day. Or for those really serious about putting a T60 Megatub to work, we reckon a 2.1m tray will fit on the back nicely.
LDV's official specification sheet lists the T60 Megatub as having a lighter kerb weight compared to the normal-wheelbase T60 Luxe, but that doesn't make sense. We didn't take ours over the weighbridge to know for sure, but logic dictates extra length in the chassis, bodywork and wheelbase would undoubtedly increase the overall weight. We're currently looking into this.
What about negatives? Aside from weighing more, the turning circle also suffers with a longer wheelbase. Ground clearance is mostly the same as well, but rampover angle is reduced.
Let's talk about that huge infotainment display, which has Apple CarPlay connectivity. Android Auto is mentioned, but it's not straightforward, nor is it effective. You're asked to download an additional mirroring app to use your Android phone, and despite my best efforts, I couldn't get it to work.
Other than Apple CarPlay and its huge size, the infotainment system is scant on additional redeeming features. The operating system isn't particularly intuitive – playing music via Bluetooth is hidden in the contacts menu, for example.
Single-zone climate control works well, and other controls are easy to handle. 'AFS' stands for adaptive front lighting system, which controls the angle of the LED headlights. They're automatic, by the way. 'PWR' and 'ECO' tighten and dull throttle response respectively.
The 360-degree camera looks like it's developed cataracts; the poor resolution and portrayal making it difficult to use to any great effect. Some better-quality optics would go a long way, especially when the increased wheelbase bumps the turning circle out to 13.8m.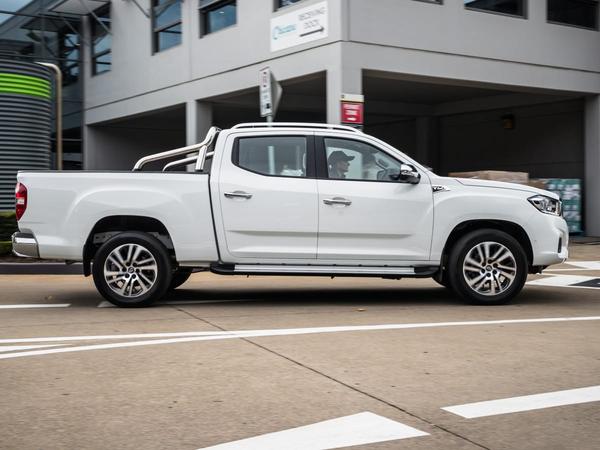 Interior practicalities are good, with a couple of cupholders helped by pop-out spots under the air vents. There are a couple of USB points up front, along with enough room to store a phone and a wallet.
The second row is spacious enough, and roughly equal to most other dual-cab utes. There's a single 12V outlet there and air vents. Many other dual-cab utes don't have such things.
The T60 has a five-star ANCAP safety rating, which dates back to 2017. Some active safety is good, although there is no autonomous emergency braking. Six airbags in the cabin is a good number, as well.
The 2.8-litre engine is a VM Motori design that's shared with the Holden Colorado and Trailblazer, along with diesel JK Wranglers. The LDV gets a Chinese-built unit, which has much lower power and torque numbers: 110kW at 3400rpm, and 360Nm at 1600–2800rpm.
The numbers aren't scintillating, and neither is the performance. Aside from a relatively low first-gear ratio, the engine is working hard more often than not for meaningful acceleration. As is often the case, highway acceleration is even more modest. It's still there, mind you, but not as outright willing as other diesel-powered 4x4 utes.
While it's down on power, fuel consumption is a little higher compared to other diesel 4x4 utes. Getting a number under 10 litres per hundred is achievable, but lots of around-town driving will be an average north of that. Official consumption figures are 9.6L/100km on the combined cycle, 12.1L/100km on the urban cycle, and 8.8L/100km on the extra-urban run.
Although the extended wheelbase is complementary to the T60's ride, it's still a stiff jigger. The work that Walkinshaw did to damper tuning domestically pays dividends to the Megatub's ride, especially when combined with the improved grip available from the highway-biased Continental tyres. Those tyres are mounted on 19-inch alloy wheels, by the way.
Like most utes, however, the ride settles down when there's some substantial ballast in the stern. Hydraulic steering doesn't grow too vague when loaded up, and retains a decent feeling of control. With 650kg of Sydney and washed river sand lobbed into the tray, crawling underneath saw around 15 or 20 millimetres of space left between the bump stop and chassis rail. When unloaded, I measured roughly 100mm with my fingers. If you did have the tray fully loaded, then I'd say you'd be riding on the chassis.
And when driving, the T60 stayed composed and felt competent enough with this load in the back. A series of undulations would see some decent oscillation from the rear end, but the car didn't feel out of control.
Because the bump stops are a well-sized, pyramid-shaped progressive design, inevitable contact with the chassis isn't too jarring. Only when loaded up and you take on a speed bump too fast for conditions, do you get a big energy transfer into the chassis.
The T60 is covered by LDV's five-year and 130,000km warranty. There isn't a capped-price service schedule offered, but intervals are set at every 12 months or 15,000km.
The T60 is a significant leg up over previous Chinese-born 4x4 utes. It looks, rides and feels better in almost every respect. And when you weigh up the inclusions, there's some serious punch in the value proposition. Some of those features, like the 360-degree camera and 10.0-inch infotainment display, are less impressive in actual use, however.
Considering the pricepoint and ultimate purpose of a ute, we'd love to see a more stripped-out model that saves on tick-a-box features, and goes harder on stuff like a grunty driveline and better suspension.
The overall package and pricing are impressive, although the T60 is arguably teetering too close to the likes of low-spec Triton and runout Colorado models. This T60 Megatub does drive extra value, with the $1500 extra in asking price well worth the extra amount of car you get. For the money, it's unique and effective.