SEVIERVILLE — Whenever weather forecasts indicate the possibility of a snow or ice event, the Sevierville Public Works Department staff is ready to do their best to keep City roads clear and usable. To complete this often arduous task, the City has a winter weather plan in place and ready for activation when needed.
Pretreatment of roadways with salt brineWhen conditions are favorable prior to a forecasted snow/ice event, salt brine is often used to pretreat roadways. Salt brine is a liquefied mixture of salt and water.
The City uses several trucks outfitted with large tanks (500 or 1,500 gallons) to spread the salt brine before the snow and/or ice is falling. The salt brine will dry and adhere to the road surface and generate heat during the event to help melt the snow/ice before it can accumulate during the early part of the snowfall.
Treatment of snow covered roadways: rock salt and plowingDuring and after snow events (if temperatures cooperate), standard rock salt (sodium chloride) is loaded in spreaders and snow plows are outfitted to trucks. During particularly cold events the salt is combined with liquid calcium chloride. This additive helps the salt adhere better and improves melting action. This year, the City has approximately 600 tons of rock salt stored for the winter, which is somewhat more than is typically used in an average winter.
Roadway treatment schedule.Roadways are treated according to a predetermined priority schedule based upon several factors.
1. Amount of Traffic.
2. Roads with State or national significance.
3. Roads that provide access to essential services.
Based upon these factors, priority roads in the City are:
• State Route 66 (Winfield Dunn Pkwy. and Forks of the River Pkwy.)
• State Route 139 (Douglas Dam Road)
• State Route 338 (Douglas Dam Road/Boyd's Creek Hwy.)
• State Route 71 (US Hwy. 441, Parkway)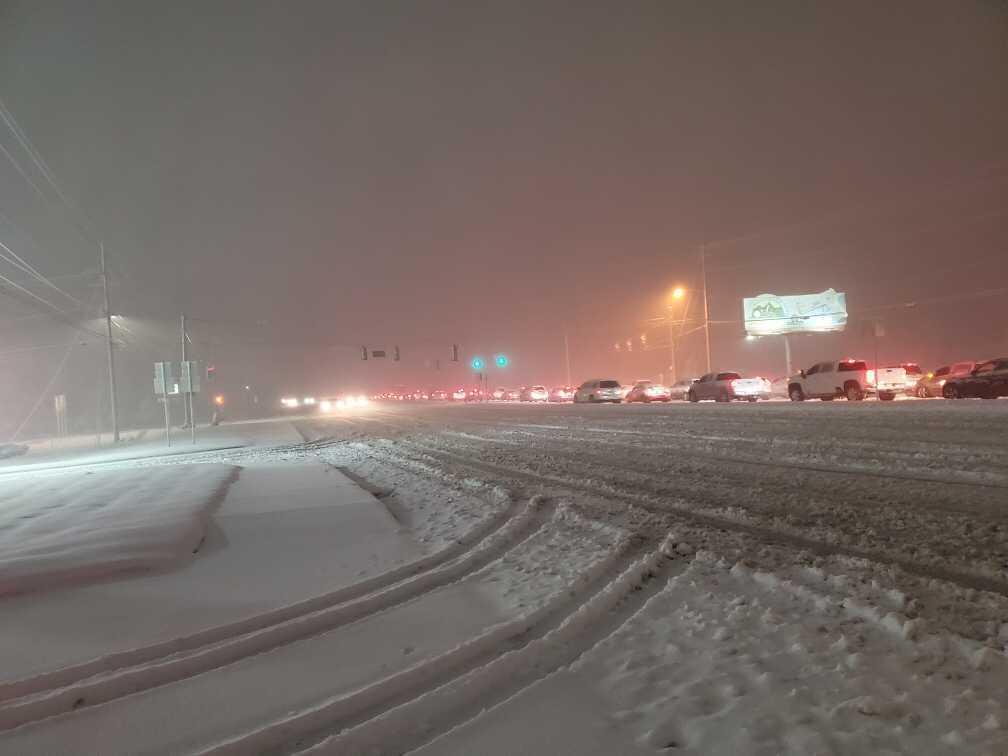 • State Route 35 (US Hwy. 411/441, Main Street/Dolly Parton Pkwy./Chapman Hwy.)
• State Route 448 (North Parkway)
• State Route 449 (Veterans Blvd.)
• State Route 416 (Pittman Center Road/Old Newport Hwy.)
• Collier Drive
• Park Road
• Middle Creek Road (the section nearest the hospital)
• Robert Henderson Road and Catlett Road (access to the Public Works Department)
• Gary Wade Boulevard
• Bruce Street
• Prince Street (Fire Hall section).
Who clears sidewalks?Citizens are encouraged to clear sidewalks in front of their homes or businesses, but do not push snow into the street. The City generally does not clear sidewalks, so that we can concentrate limited resources on roadways.
Who is responsible for clearing driveway aprons?Property owners or residents are responsible for clearing their driveway entrance/exit. Remember, we will continue to plow snow until the street is clear or safe for motorists. We realize that this can be frustrating to the resident; however we simply do not have the resources to clear thousands of driveway aprons.
For additional snow fighting plan information, visit http:// seviervilletn.org/index.php/streets/214-snow-fighting-plan.html.
— Submitted