Award-winning photographer Jim Trosper is shooting for the stars—literally.
Conveying the night skies of his ancestors inspires Chickasaw photographer Jim Trosper. You might say he's literally shooting for the stars.
After hiking a few miles into Oklahoma's Wichita Mountains, usually sometime between 2 and 3 a.m., when the Milky Way begins to streak across the black sky, Trosper clicks the shutter on his Canon 5D Mark III camera, steadied on a tripod. He shoots a long exposure, 30 seconds, in order to capture the sharpness and brilliance of the nighttime sky. "That's long enough for the stars to sink in, and not enough to start moving across the sky," he says. "The stars really pop on a really dark sky."
What began as a senior project for a bachelor's degree in photographic arts at the University of Central Oklahoma ignited a passion for the stars that he didn't realize he had. "I had no idea how to do it, but I wanted to challenge myself and separate myself from the pack, so I put some time into it to figure out the technical aspect of it," Trosper says. "Crunching the numbers and getting to know how the camera works, you have to play with light to allow the right amount in your camera in order to do starscapes. I didn't know if I would produce something I would even like, but once it started to come together, it sparked a passion for photography that just took off."
Tahoe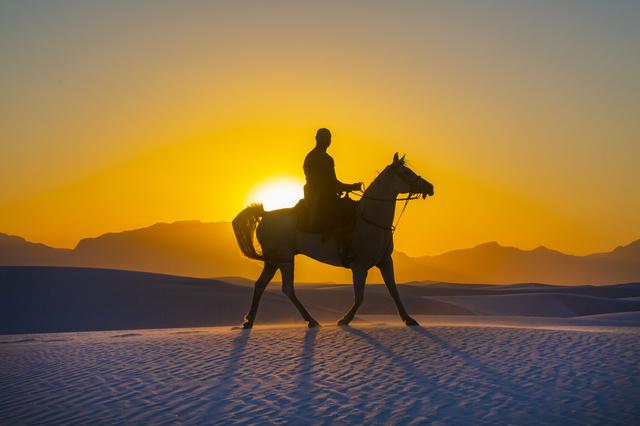 ---
Trosper, now 29, has been shooting astral photography in his native Oklahoma for the past eight years — and winning awards, showing in Chickasaw art shows and Oklahoma City art galleries. "I'm Chickasaw, and seeing the same sky as my ancestors, who were one with the land, and conveying the importance of the night sky, is part of why I do this," he says.
Because the nighttime sky has a predetermined path, knowing exactly where to be to find the stars at their brightest takes careful planning — and a lot of patience. "Instead of being in front of something and capturing the image, I almost have a picture in my head before I take it," says Trosper, whose photographs usually include something rooted into the earth, like a craggy tree or snowcapped peaks, to add drama, perspective, and scale. "I hike in the Wichita Mountains regularly, and I know spots I want to shoot. Then, I'll hike in around 8 p.m. and I'll just set up where I want to be and get to know the night."
Soba (Horse)
---
He waits until the stars line up like he imagined them in his mind, then starts shooting. He stays until daybreak, when the sky begins to show light. "It's one of those things that never get old," he says of his all-nighters. "It's like an ancestral trait. We're all seeing the same things that our ancestors saw. It's something that all humans connect to on a primal level."
Which is what he hopes to convey in his work: that symbiotic relationship between us all, and what's around us. Trosper even reproduces his images on high-gloss aluminum so viewers can see themselves in the photograph, instead of regarding it as an object to be admired. "I'm just trying to get people to put themselves in a moment to appreciate nature and landscapes for what they are, to feel the stillness, and transport themselves into the scene."
---
Visit Jim Trosper at the Artesian Arts Festival (chickasaw.net) in Sulphur, Oklahoma, May 26 – 29 and online at jimtrosper.com.
From our February/March 2022 issue
Photography: (All images) courtesy Jim Trosper